Charles Floyd cover
Over the course of more than two years, the Lewis and Clark Expedition covered close to 8,000 miles traveling between Missouri and what is now Oregon and back again.1 The party encountered bad weather, grizzly bears, and numerous Native Americans both friendly and unfriendly, but lost no members but one: Sergeant Charles Floyd.2
Floyd was born in Kentucky in about 1782, making him no more than 22 years old at the time he set off on what was to be a transcontinental trip with Meriwether Lewis and William Clark in 1804.3 Sadly, he became seriously ill, dying on August 20 near Sioux City, Iowa. Historians believe Floyd probably suffered a ruptured appendix resulting in a subsequent infection that took his life.4
This cover postmarked in Sioux City and mailed to Sedley Bartlett of Meredith, New Hampshire, marked the 130th anniversary of Sergeant Floyd's death.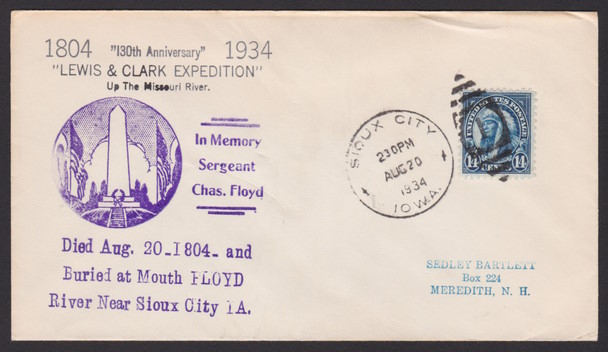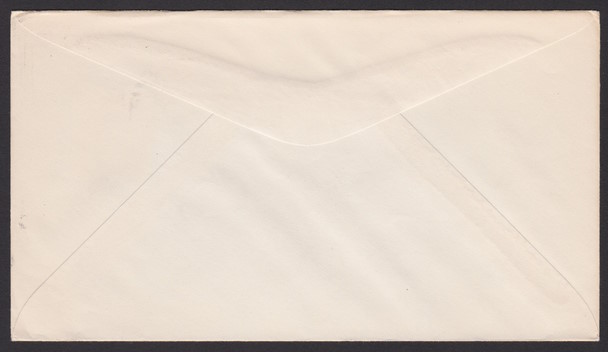 The cachet's design features an illustration of the Sergeant Floyd Monument at Floyd's Bluff, Iowa.5 The 100-foot high obelisk was installed in 1901 near the site where Floyd was originally buried following his death.
The 14¢ American Indian stamp is known used on several covers commemorating the 130th anniversary of the Lewis and Clark Expedition, likely because the Expedition did make contact with numerous Native American tribes. Otherwise, this solo usage, which paid near five times the then current first-class letter rate, was a moderately expensive way to pay postage for a souvenir cover.
Next: Cheyenne Agency cover
References
Published 2023-03-21