Boys Town mailing includes hydrangea cinderella stamps
The vast majority of mailings I receive from nonprofit organizations are unremarkable from a philatelic perspective. Many bear nothing more than a postage paid imprint; some might have a meter mark or one of the ubiquitous nonprofit stamps with the letters "USA" and a star.
Last week, I received a Boys Town solicitation that did hold some interest for me as a stamp collector. The outside of the envelope was unremarkable, but inside were several packets of wildflower seeds, along with a business reply envelope for returning donations that bears what at first glance appeared to be postage stamps. Upon closer inspection, however, I realized that the labels are not stamps at all, but cinderellas picturing artwork from a hydrangea seed packet!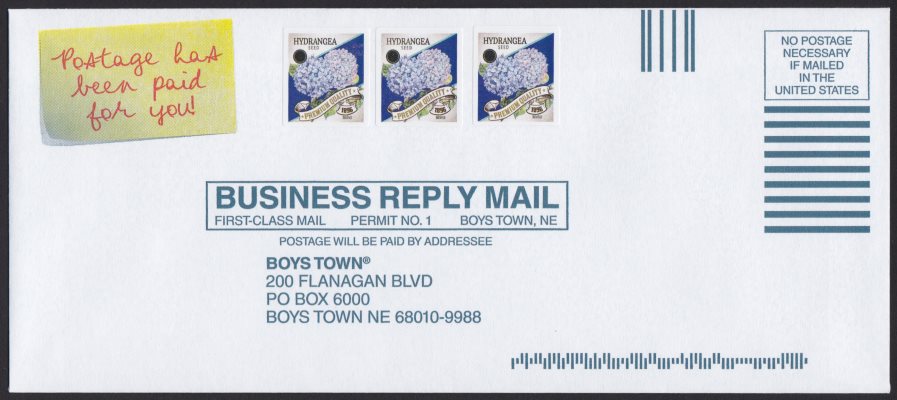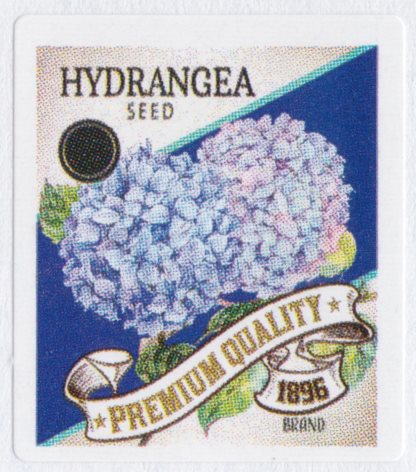 You're probably familiar with Boys Town Christmas stamps issued over the years, and I've seen mailings from Boys Town and other nonprofits in the past where the postage on the return envelope is paid in whole or in part with actual postage stamps, usually low value definitives—in recent years, the coil stamps depicting various fruits. What I don't recall seeing before is a reply envelope bearing cinderella stamps or labels of the type on the envelope that I received last week. Oddly enough, there's no text on the labels themselves indicating the Boys Town origin, but if they're being used exclusively on business reply envelopes intended to be mailed back to the organization, maybe no need was seen for that.
At this point, I do not know whether this is a trial to determine if response rates are affected when real stamps are not affixed to the reply envelopes, or a permanent move to eliminate the cost of real postage stamps, or simply a marketing expert's idea for linking the return envelope to the rest of the mailing. I also don't know whether any other cinderella designs are being used on Boys Town reply envelopes. Have you received one of these in the mail? If so, did it have the same labels as the one I've shown here, or something different?
Update: I wrote to Boys Town asking for more information about the cinderella stamps mentioned above, and received a reply from Mike Vcelik, Director of Annual Giving. "We tested a series of one cent stamps on our BREs and the use of those stamps lifted response that more than paid for the postage affixed," Mike wrote. "Many non-profits are now using this enhancement.
"The USPS allowed us to test other non-postage stickers and seals on our BREs which have worked on par with the one cent stamps. We have also tested printed on images of what are referred to as 'faux' stamps and those also work to lift response. I think the addition of the stamps, seals and stickers on the BREs makes the BREs stand out in the package."
Not too long after receiving his response, I received another mailing from Boys Town that included some preprinted Easter-themed "faux" stamps of the sort that Mike mentioned both on the outer envelope and on the business reply envelope that was enclosed.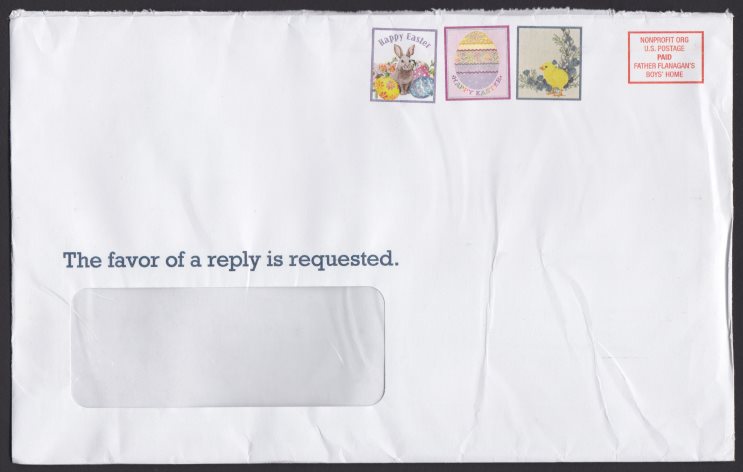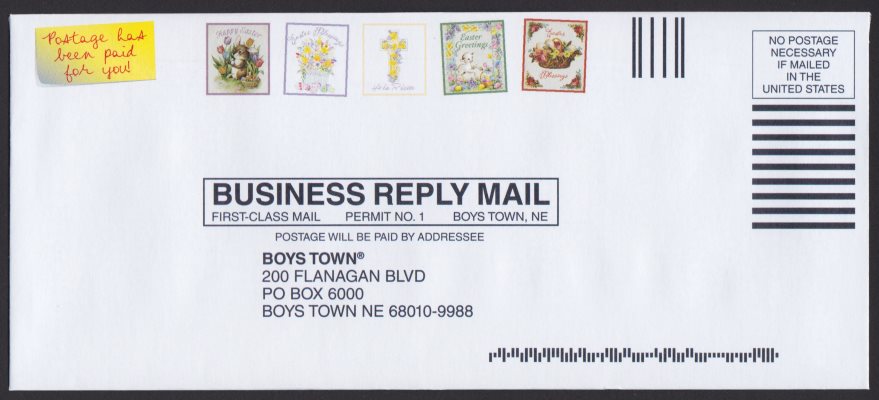 I personally like the hydrangea cinderellas a lot better, but I still found it interesting that even stamp size designs printed directly on the envelopes apparently serve to boost response rates for Boys Town, and appreciated the response that Mike provided to my inquiry.
One final note: Mike mentioned that Boys Town is testing "other designs as well in this and other appeals," so keep your eyes peeled and don't forget to open your "junk mail." There could be something special waiting inside!
Published 2019-03-05 Last updated 2019-04-09