Boys Town mailing includes hydrangea cinderella stamps
The vast majority of mailings I receive from nonprofit organizations are unremarkable from a philatelic perspective. Many bear nothing more than a postage paid imprint; some might have a meter mark or one of the ubiquitous nonprofit stamps with the letters "USA" and a star.
Last week, I received a Boys Town solicitation that did hold some interest for me as a stamp collector. The outside of the envelope was unremarkable, but inside were several packets of wildflower seeds, along with a business reply envelope for returning donations that bears what at first glance appeared to be postage stamps. Upon closer inspection, however, I realized that the labels are not stamps at all, but cinderellas picturing artwork from a hydrangea seed packet!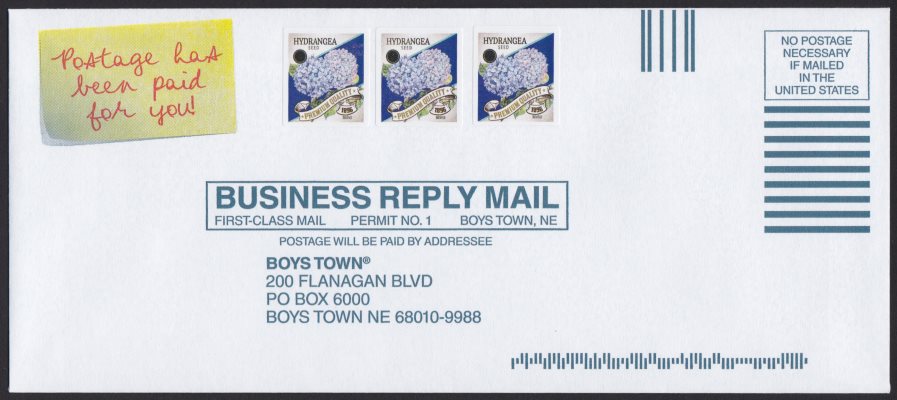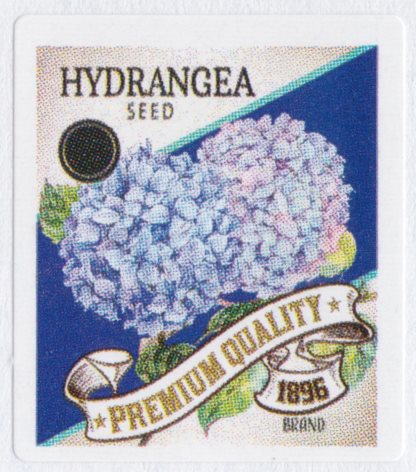 You're probably familiar with Boys Town Christmas stamps issued over the years, and I've seen mailings from Boys Town and other nonprofits in the past where the postage on the return envelope is paid in whole or in part with actual postage stamps, usually low value definitives—in recent years, the coil stamps depicting various fruits. What I don't recall seeing before is a reply envelope bearing cinderella stamps or labels of the type on the envelope that I received last week. Oddly enough, there's no text on the labels themselves indicating the Boys Town origin, but if they're being used exclusively on business reply envelopes intended to be mailed back to the organization, maybe no need was seen for that.
At this point, I do not know whether this is a trial to determine if response rates are affected when real stamps are not affixed to the reply envelopes, or a permanent move to eliminate the cost of real postage stamps, or simply a marketing expert's idea for linking the return envelope to the rest of the mailing. I also don't know whether any other cinderella designs are being used on Boys Town reply envelopes. Have you received one of these in the mail? If so, did it have the same labels as the one I've shown here, or something different?
Published 2019-03-05