First Day Cover
While first day covers with the American Indian stamp mailed from Washington, D.C., are not common, they are relatively plentiful in comparison with FDCs from Muskogee, Oklahoma. Only 20,000 copies of the 14¢ stamp were on hand in Muskogee on the first day of issue, and based on the infrequency with which Muskogee FDCs appear on the market, it seems likely that only a tiny percentage were used there on that day.1
The cover pictured here is one of those rare birds; postmarked with a May 1 duplex cancel, it was mailed from Muskogee to Detroit, Michigan.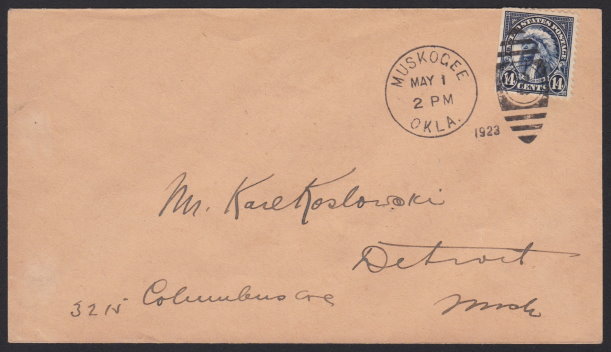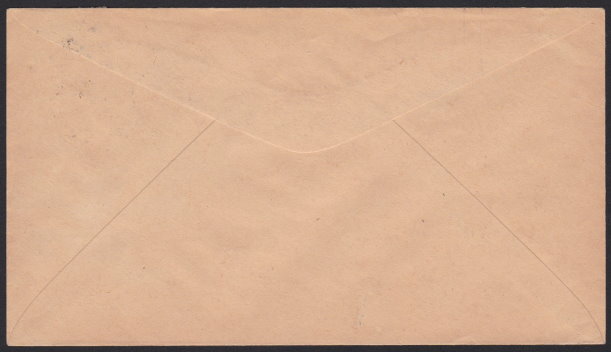 The name of the addressee, Karl Koslowski, may not be a familiar one to many collectors today, but Koslowski is remembered in philatelic history as the collector who originally purchased the only known mint copies of the imperforate 4¢ Ulysses Grant stamp from the second Bureau issue.2 Koslowski apparently had an interest in first day covers and likely addressed this envelope to himself; other first day covers bearing what is believed to be his handwriting are known.3
Next: National Sugar Refining Company cover
References
14c American Indian. Facsimile first day cover. Fleetwood, 1974.
Lawrence, Ken. The Scarce Imperforate 4¢ Ulysses S. Grant Stamp of 1908. Linn's Stamp News. 3 Aug. 2017. Accessed 7 Aug. 2019.
Katz, Jerry A. First Registered FDC. FDCs of the 11¢ Hayes Stamp of 1922. Accessed 7 Aug. 2019.
Published 2019-08-07 Last updated 2021-01-06