July Boys Town mailing features more hydrangea cinderella stamps
I wrote in March about receiving a nonprofit mailing from Boys Town that contained a business reply envelope bearing several copies of an interesting cinderella stamp picturing hydrangeas; in June, the envelope enclosed with another mailing had several stamp-sized designs printed on it.
This week, I received another Boys Town mailing, this one like the first having a business reply envelope with several self-adhesive cinderella stamps attached to it.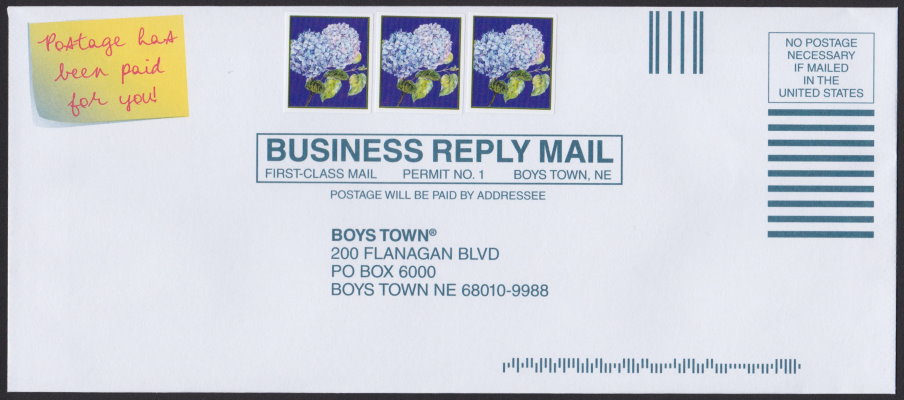 As you can see, the cinderellas or stickers on this envelope are different than the ones used on the first mailing in that the design is simpler, but there's also something familiar about it. It appears to me that the newer labels use the same basic hydrangea artwork, but without having the appearance of a seed packet.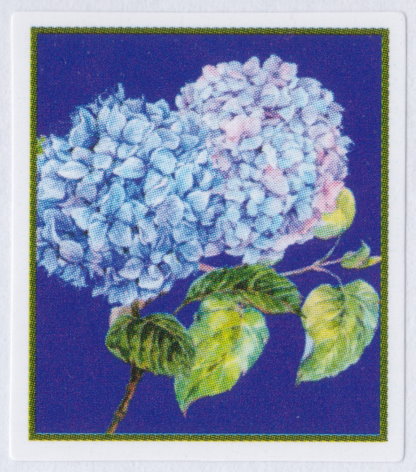 I think that the cinderellas on the first envelope that I received earlier in the year are more attractive, but this is an interesting curio to tuck away in my collection. It's not likely to ever have any particular value, but as I've observed previously, it seems like the sort of thing where not many are likely to be saved.
Published 2019-07-31