Art deco bird first day cover
It's not often that I receive an unexpected cover in the mail, so imagine my surprise and delight when this first day cover bearing a copy of the new art deco bird nonprofit stamp showed up in my mailbox.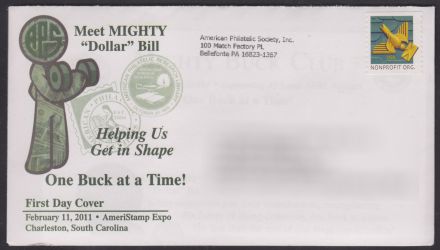 The American Philatelic Society, of which I'm a member, sent this to me from the AmeriStamp Expo held in Charleston, South Carolina, earlier this month.
The cover contains a solicitation for donations, but I still think it's a nice gesture considering I've been a member for years.
As for the stamp itself, I have mixed feelings. The existing seacoast stamp used by nonprofits was issued in 2002, so it's probably about time to replace that design.
On the other hand, the new design just kind of makes me go, "eh." What do you think? Is the new stamp better or worse looking than the existing stamp for nonprofits?
Published 2011-02-23