Home >
Blog >
James Herriot, veterinarian and author, to be commemorated with new Philosateleian Post local post stamp
James Herriot, veterinarian and author, to be commemorated with new Philosateleian Post local post stamp
James Alfred Wight (1916–1995), a British veterinarian better known by his pen name, James Herriot, will be honored this fall with a special commemorative local post stamp from Philosateleian Post. The new stamp is scheduled to be issued on October 3, the 100th anniversary of Wight's birth.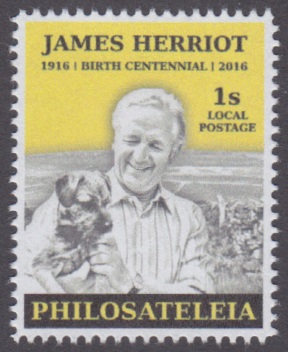 Wight, who worked as a veterinarian in England's Yorkshire Dales beginning in 1940, gained international recognition for a series of books inspired by his experiences. His first two works were published in the United States in 1972 as a single volume titled All Creatures Great and Small.
"I discovered the James Herriot books at my local library as a child, and have read them over and over again since then," says Kevin Blackston, proprietor of Philosateleian Post. "From the sorrowful tale of Herriot having to put down an elderly pensioner's ailing dog to the hilarious account of Siegfried Farnon waging a losing battle against a cow's gas-filled stomach, the stories take you through a range of emotions that few authors can evoke.
"I've enjoyed reading Mr. Wight's stories with my wife and look forward to sharing them with my daughter as she gets older."
The new stamp is based on two photographs. The World of James Herriot in Thirsk, North Yorkshire, provided the picture of James Herriot and a dog, while New Hampshire's Scott Abbot provided the image of the Yorkshire landscape which makes up the design's background. The images were used with their permission.
Technical Specifications
Format: sheets of 36 (6×6). Design size: 28×36 mm. Separation method: perforated 12. Adhesive: water-activated dry gum. Printing method: inkjet.
Philatelic Services
To receive a mint single of Philosateleian Post's James Herriot stamp, or for first day cover service, send either $2 or a self-addressed stamped envelope and your request to:
Kevin Blackston
Philosateleian Post
PO Box 17544
San Antonio TX 78217-0544
United States of America
About Philosateleian Post
Founded in 2004, Philosateleian Post transports mail only from the proprietor's home to the nearest mail receptacle or post office, and does not compete with any official mail service. For more information, please visit http://www.philosateleia.com/post/
Published 2016-08-15