Sacagawea Cover
While the names of many Native Americans of the 19th century may be familiar even today, Sacagawea is arguably the best known female member of that group due to her role as an interpreter for the famous Lewis and Clark Expedition led by Meriwether Lewis and George Clark.1 The Expedition was tasked with exploring new lands acquired by the United States via the Louisiana Purchase, and traveled all the way to the Pacific Ocean.
This cover bearing a cachet using an alternate spelling of Sacajawea and commemorating the 130th anniversary of the Lewis and Clark Expedition was mailed to Youngstown, Ohio, after being postmarked in Wind River, Wyoming, on November 11, 1934.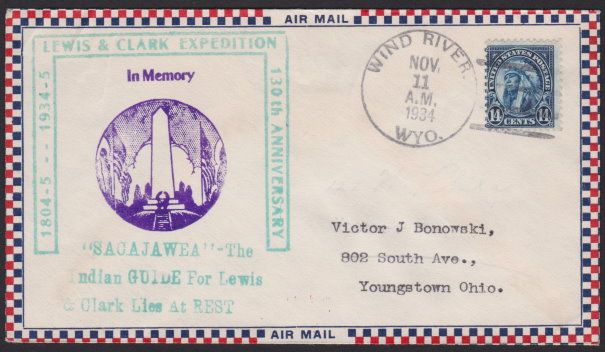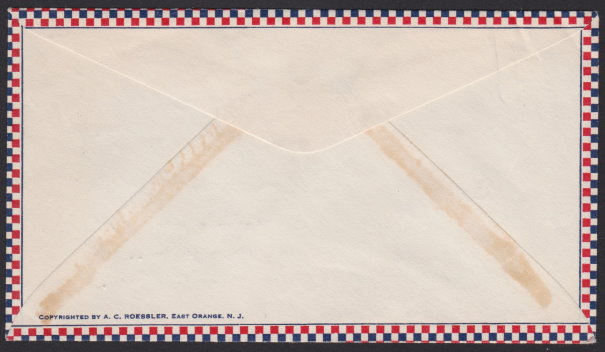 A large tombstone in a graveyard on the Wind River Indian Reservation identifies the location as Sacagawea's resting place, but modern authorities question that assertion, pointing to a list of expedition members compiled by Meriwether Lewis himself that listed Sacagawea as having died in South Dakota in 1812.2 3 4 This cover, then, may incorrectly identify Sacagawea's burial place.
In addition, the 14¢ American Indian stamp could be viewed as an odd choice since Hollow Horn Bear, whose likeness was reproduced on the stamp, was a member of the Brule Sioux, not a Shoshone like Sacagawea; however, the stamp with its generic caption of "Native American" was used with some degree of regularity on covers of the period that have Native American ties.5 A stamp honoring Sacagawea herself was issued as part of the United States 1994 Legends of the West sheet.6
As for the air mail envelope, its reverse bears the copyright imprint of Albert C. Roessler, a New Jersey stamp dealer was was involved in creating cacheted covers beginning in 1918.7
Next: Goldwasser cover
References
Published 2020-07-14 Last updated 2020-07-23