Philosateleian Post celebrates opening of new post office
In early May, Philosateleian Post relocated its base of operations from San Antonio, Texas, to a newly-built facility in Floresville, Texas. On Monday, July 18, the Texas-based private local post is scheduled to issue a new stamp picturing and commemorating the opening of its new post office.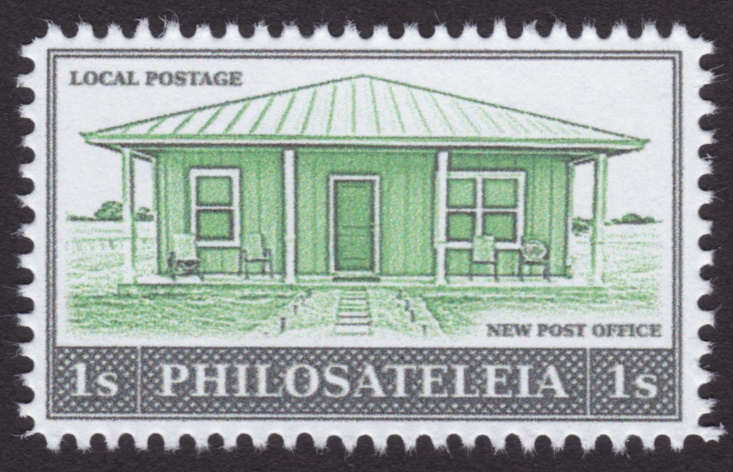 The 1-stamp stamp's vignette features a view of the front of the stucture in green, while the stamp's frame is being printed in a dark gray.
"We are very excited to have moved into our new home," says Philosateleian Post's proprietor, Kevin Blackston. "Our new office features a larger surface area for mail processing than our previous facility did, and I'm pleased to be continuing Philosateleian Post's operations here in the Floresville area."
The new post office, which measures just over 1,100 square feet in size, boasts a metal roof. In addition to housing Philosateleian Post's mail operations, the building features a full kitchen, restroom facilities, and sleeping quarters for staff. It is affectionately known to its occupants as The Green House and La Casa Verde.
In addition to Floresville and San Antonio, Texas, Philosateleian Post previously operated in Jacksonville, Florida, and Valdosta, Georgia.
Technical Specifications
Format: sheets of 55. Design size: 36×21 mm. Separation method: perforated 12. Adhesive: water-activated dry gum. Printing method: inkjet.
Philatelic Services
To receive a mint single of Philosateleian Post's New Post Office stamp, or for first day cover service, send either $2 or a self-addressed stamped envelope and your request to:
Kevin Blackston
Philosateleian Post
PO Box 217
Floresville TX 78114-0217
United States of America
Published 2022-06-22