Buffalo Bill Cover
While the 14¢ American Indian stamp's primary reason for being was to pay postage, it also found favor with stamp collectors creating philatelic covers in the 1920s and 1930s. Any envelope commemorating an event or anniversary with even a remote connection to Native Americans was a prime candidate to have one of the 14¢ stamps attached.
The cacheted cover pictured here is a fine example. Commemorating the 90th anniversary of Buffalo Bill Cody's birth, the cachet bears profiles of a bison and Cody, plus the legend next to the showman reading "Scout & Indian Fighter."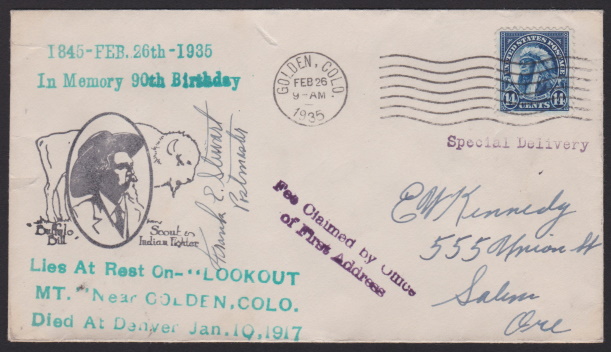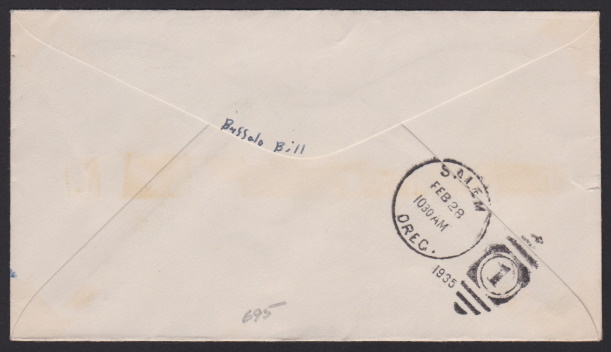 While the 14¢ stamp's only link to many commemorative covers on which it is found is that it depicts a Native American, one famous name does provide a connection between Buffalo Bill Cody and the stamp's subject, Hollow Horn Bear: George Armstrong Custer. Cody in 1872 worked with George Custer to guide Grand Duke Alexis of Russia during a hunting trip; Custer, of course, was killed just four years later during the Battle of the Little Bighorn, where Hollow Horn Bear fought on the side of the Native Americans.1 2 3 Cody later included a dramatized reenactment of what is now known as Custer's Last Stand in his stage show.
Besides the aforementioned imagery, the cachet includes the wording "In Memory 90th Birthday," "Lies At Rest On 'LOOKOUT MT.' Near GOLDEN, COLO.," and "Died at Denver Jan. 10, 1917." The stamp is tied to the cover by a February 26, 1935, machine cancellation from Golden, Colorado, and the envelope was signed by Postmaster Frank Stewart.
Besides the stamp and cachet, the front of the envelope also bears a typewritten "Special Delivery" notation along with a handstamped "Fee Claimed by Office of First Address." First class postage at the time was 3¢ per ounce with a 10¢ special delivery fee; the American Indian stamp thus overpaid postage by 1¢, though that was obviously of little importance to the cover's creator.4
The cover's reverse is adorned by a February 28, 1935, duplex cancellation from Salem, Oregon, to which the envelope was mailed.
Next: Hindenburg cover
References
Di Certo, Joseph. Buffalo Bill. Encyclopædia Britannica. Accessed 18 July 2022.
Museum Returns Historic Leather Shirt Of Native American Chief Hollow Horn Bear To Family. The Tennessee Tribune. 9 July 2021. Accessed 18 July 2022.
Battle of the Little Bighorn. Encyclopedia.com. 22 June 2022. Accessed 18 July 2022.
Beecher, Harry W., and Anthony S. Wawrukiewicz. U.S. International Postal Rates, 1872–1996. Portland, Oregon: Cama Publishing Company, 1996.
Published 2022-07-18