The American Indian and a souvenir cocoanut
If you collect postal history, there's no question that standard covers with their various markings can tell quite a story, weaving together geography and history and culture in a tidy little package. But it isn't just letters that get sent through the mail; sometimes packages do, too.
Most people don't hang on to pieces of material used to package a gift or purchase, but we can be grateful that someone saved this parcel label used to mail a "souvenir cocoanut" from Miami, Florida, to Oley, Pennsylvania, in the 1920s.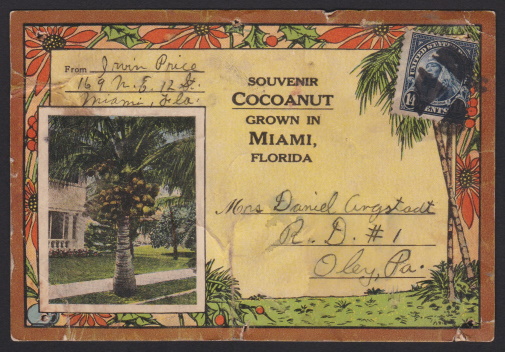 Naturally, my particular interest in this piece was due to the solo use of the 14¢ American Indian stamp that paid postage. If you're interested, I've written up a short piece explaining the likely postage rate paid.
In recent years, I've added nothing to my 14¢ American Indian collection other than on-cover or on-piece solo uses of the stamp. This one turned up in an auction listing earlier this year, and I was happy to snag it.
Published 2022-06-20