Philosateleian Post to issue American flamingo stamp in June
Philosateleian Post next month will celebrate summer with a new stamp picturing an American flamingo. The very pink 1-stamp design is based on a photograph that Philosateleian Post's proprietor, Kevin Blackston, took in July 2019, and the stamp is scheduled to be issued on June 22.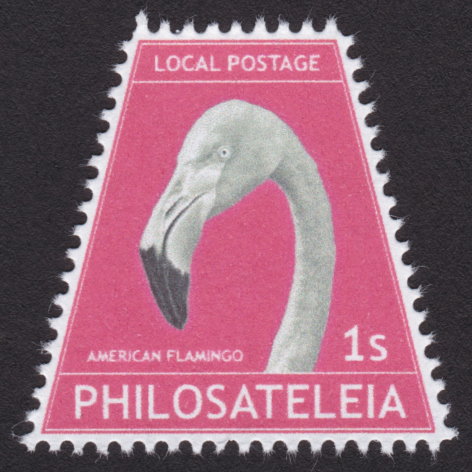 Although Philosateleian Post has previously issued stamps picturing birds, the American flamingo stamp is a first for the San Antonio-based local post in two ways. First, the design is a non-rectangular trapezoid, with a narrow top gradually expanding to a wider base; all previous Philosateleian Post stamps including a single diamond-shaped stamp have been rectangular in format. Second, the stamp's unusual format and resulting unusual sheet layout means that 22 tête-bêche pairs exist in each sheet printed.
"With COVID-19 and related world events, 2020 has already been a really weird year, so why not issue an odd-shaped stamp?" asked Blackston. "I was inspired by a picture of an old Monaco stamp that is also trapezoid-shaped.
"Although the design of Philosateleian Post's new stamp is not complicated, this was a technically challenging issue to lay out and perforate, and I hope collectors will like it as much as I do."
Technical Specifications
Format: sheets of 44. Design size: 36×28 mm. Separation method: perforated 12. Adhesive: water-activated dry gum. Printing method: inkjet.
Philatelic Services
To receive a mint single of Philosateleian Post's American Flamingo stamp, or for first day cover service, send either $2 or a self-addressed stamped envelope and your request to:
Kevin Blackston
Philosateleian Post
PO Box 17544
San Antonio TX 78217-0544
United States of America
Published 2020-05-24