Orbis impresses with airplane cinderellas on reply envelope
Life has been exceptionally busy over the past few weeks, and I have a little bit of a backlog of blog posts to churn through now. I'm not guaranteeing that I'll get through them all quickly, but I do have some interesting material to share.
The first such item is from Orbis, a nonprofit organization that provides training to healthcare professionals in developing nations in order to treat and prevent conditions that can lead to blindness. In 1982, the organization began operating its first "Flying Eye Hospital," an aircraft specially converted to function as a teaching hospital.
That "Flying Eye Hospital" is no doubt the reason for the inclusion of the silhouette of an airplane in the Orbis logo used on this business reply envelope that I recently received from the organization. Of greater interest from a philatelic perspective, however, are the two "Vision" cinderellas bearing a matching silhouette that are attached to the envelope.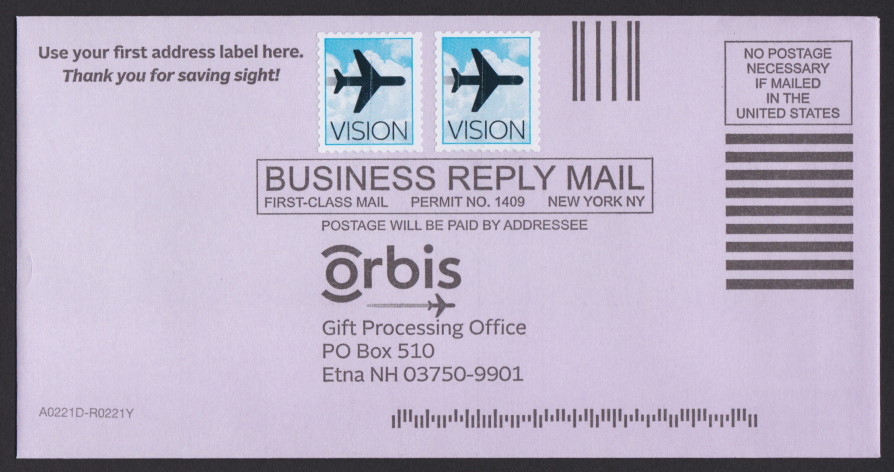 I believe the labels' edges are die cut (measuring approximately die cut 11) since they appear to be far too clean to be regular perforations. I presume that the labels are self-adhesive.
Finally, I have to note that the printing quality on these is admittedly not great; you can probably see vertical lines in my scan, and those are actually present on the labels themselves. Nevertheless, they kind of sort of look like stamps, so they did catch my attention.
This business reply envelope is not the first mailing that I've seen from Orbis with a philatelic connection. Back in 2018, I received a cover from the organization with modified images of several Ethiopian stamps printed on the reverse. In both cases, I suspect the "stamps" were used simply as design elements rather than with any specific philatelic intent, but they are in my opinion very interesting.
Published 2021-04-14