Non-profit cover makes use of Ethiopian stamp images
Like a lot of people, I receive a decent amount of "junk mail," including solicitations from various non-profit organizations. Some of those solicitations actually have stamps on them, mainly the Patriotic Nonprofit over the past couple of years, but probably roughly as many do not.
This cover that I received from Orbis International earlier this month falls into the latter category. It has a pretty enough border reminiscent of old airmail envelopes, but only a 13.5¢ meter mark to pay postage.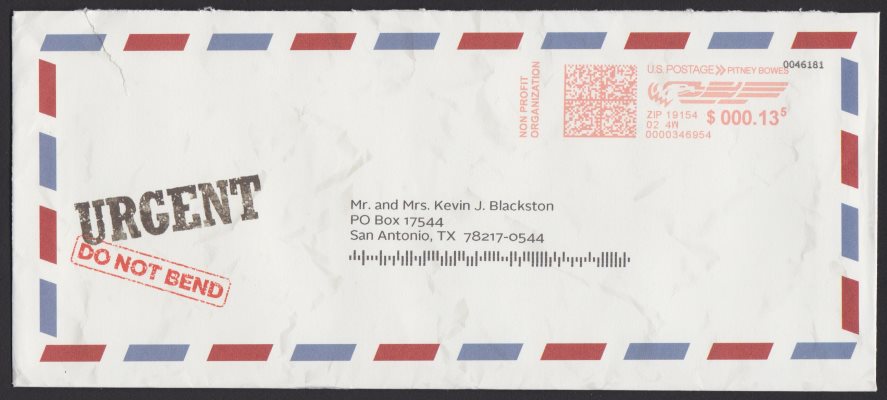 Flip the envelope over, however, and there are four stamps—or rather, images (with denominations removed) of four stamps from Ethiopia!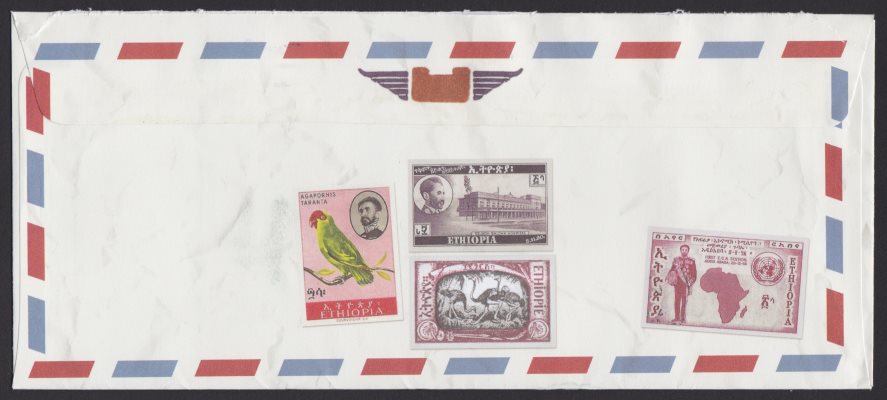 The stamps depicted are:
1967 Black-winged lovebird (airmail)
1950 Dejach Balcha Hospital
1919 Ostriches
1958 UN Economic Conference for Africa (airmail)
My guess is the graphic designer who put together this envelope probably found the images on some stock photo website and decided to use them simply to make the envelope more attractive. Whatever the case, it certainly added a bit of color to something I would otherwise have discarded almost immediately.
(As interesting as this cover is, it doesn't even come close to fitting into any of my collections, so I've listed it on my online shop.)
Published 2018-12-25