Como Park Post reissues 3¢ stamp in coil format
I wrote back in August about a 3¢ local post stamp issued by Como Park Post out of Saint Paul, Minnesota. That stamp was initially released in imperforate sheets, but Como Park Post operator Tom B. informs me that it has been reissued in coil form, and he sent me a cover bearing a coil pair.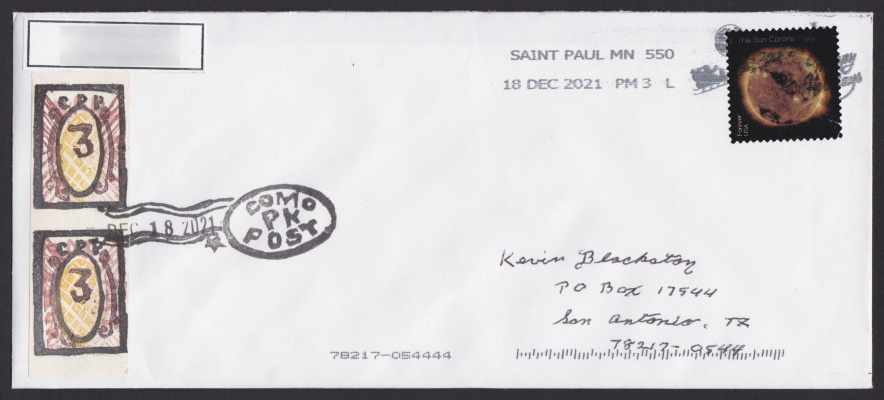 The initial run of coil stamps has no markings that distinguish those stamps from the earlier imperforate sheet stamps. Tom tells me that later printings of this stamp will have a red marking along one edge, which will make it possible to identify singles as being from coils; in the meantime, however, much like the imperforate United States coil stamps of the 1910s, these need to be collected on cover in order to verify their original format.
Update (2021-01-02)
When I checked my post office box on Friday, one of the items awaiting me was a cover bearing one of Como Park Post's 3¢ stamps with a red stripe along one edge.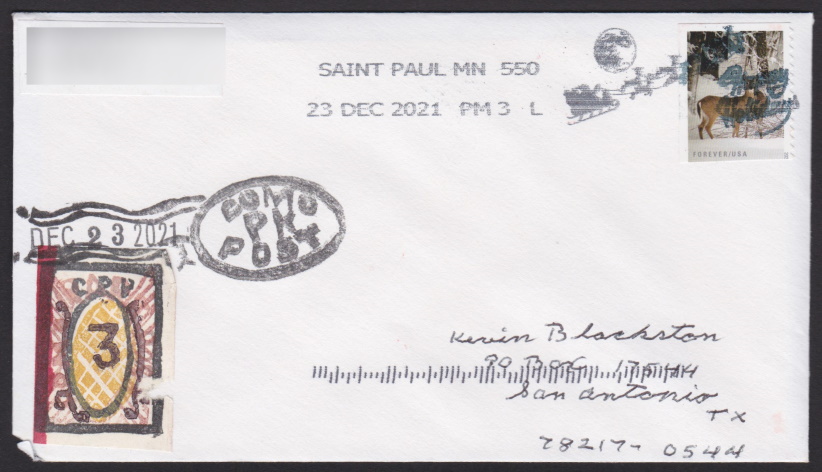 The red stripe is dark but noticeable particularly above and below the design, and should make the stamp easy to identify as originating in a coil even if it's removed from the cover.
Published 2021-12-24 Last updated 2022-01-02