December 2019 mailing contains new Boys Town bird cinderellas
Boys Town's newest addition to its ongoing run of business reply envelopes bearing stamp-sized labels or preprinted images thereof is now a part of my growing collection of such material. The envelope shown here was in a mailing waiting on me when I checked my post office box over the weekend following the Thanksgiving holiday.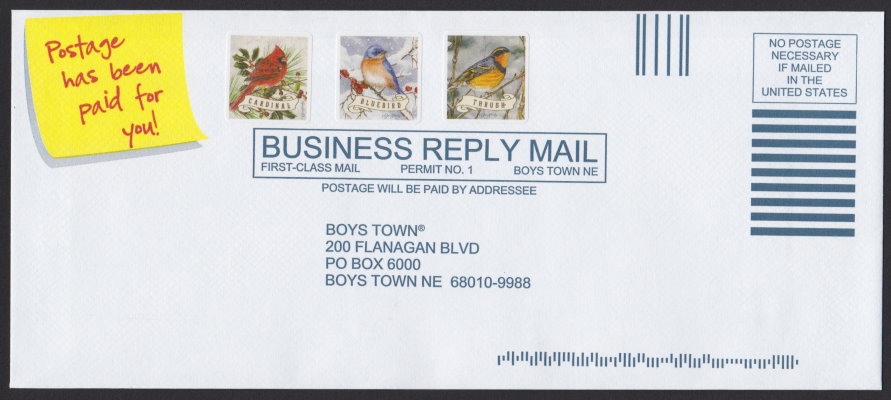 A close-up reveals that the three cinderellas depict a cardinal, a bluebird, and a thrush. Washington state artist Jane Shasky's name is just barely visible in script near the bottom of each label; the Licensing page on Shasky's website lists Boys Town among the companies and organizations that use her work.

I previously received a business reply envelope bearing a single label with three different bird designs from Boys Town in August, and another with four preprinted designs last month. The new labels use completely different artwork.
It is still a bit puzzling to me that Boys Town is not placing its own name on these labels; it seems like it would be a great advertising tool. On the other hand, since their hope is no doubt that these envelopes will be returned with donations, and since the vast majority of those that aren't probably end up in the trash, perhaps they see no point in bothering, or perhaps no one has even given it that much thought. At any rate, I'm happy to keep adding these pieces to my collection.
Update (2019-12-18)
I received another mailing from Boys Town today that contains a business reply envelope using the same labels as the one pictured above, but arranged with the bluebird first, then the thrush, and finally the cardinal. Since the labels appear to be identical, I've listed that second envelope for sale in case you would like to add it to your own collection.
Published 2019-12-03 Last updated 2019-12-18