Pabay local post stamp celebrates Brexit
When I pulled today's featured cover out of my post office box over the weekend, my first thought was that it was in pretty rough shape. My second thought was that it had a mighty large local post stamp affixed to its upper left corner. This £2 cinderella and a sampling of other stamps tucked inside are the first in my collection from Pabay, a tiny dot of land off the coast of the Scottish isle of Skye.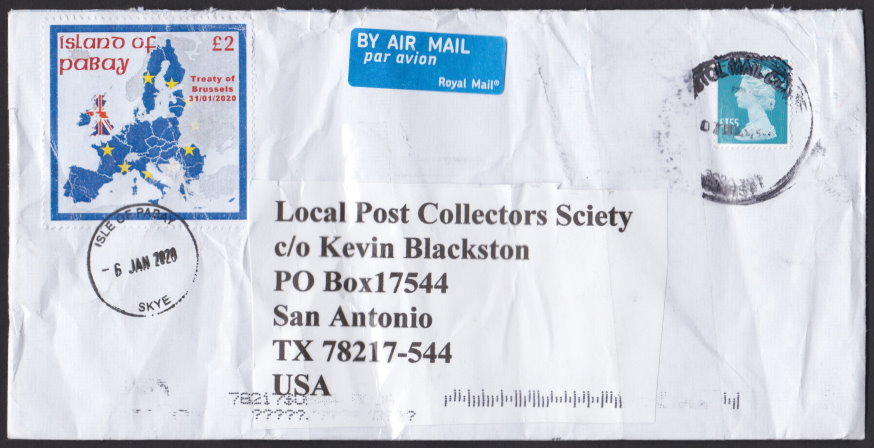 The stamp features a map of the European Union with the wording "Treaty of Brussels" and the date "31/01/2020," an obvious reference to the so-called "Brexit," Britain's exit from the European Union. In the design, Britain is marked with the colors of the Union Jack, while the EU flag is overlaid on the countries remaining in the European Union.
The sender, Jeff H., writes that he and his son have been producing local post stamps since 1993, while cinderellas for Pabay date back as far as 1962.
As for the envelope itself, my best guess is that it got stuck in a sorting machine somewhere along the way, and whatever was in line behind it caused the accordion folds. Despite its battered appearance, it seems like a nifty cover to add my collection.
Published 2020-02-19