Swatow Cover
By the mid 1930s, many pieces of mail addressed to international destinations were being sent via airmail. Although such service was not cheap, the time saved made the extra expense worthwhile for some mailers in the United States.
This cover, which was mailed from New York, New York, to Swatow, China—known today as Shantou—did not receive expedited service.1 Because of that, it ended up as an exceedingly scarce example of international solo usage of the 14¢ American Indian stamp.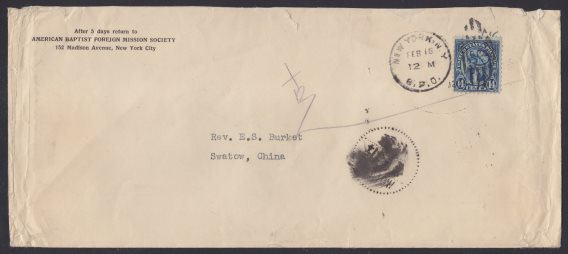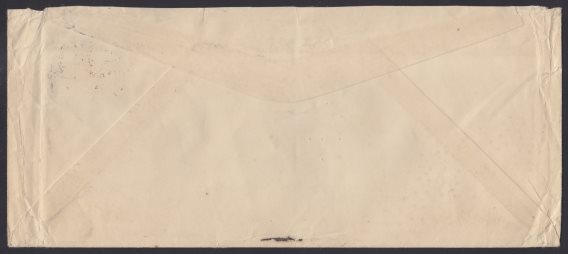 The UPU surface letter rate in effect at the time this cover was mailed was five cents for the first ounce plus three cents for each additional ounce.2 The 14¢ stamp from the rotary press printing thus paid the appropriate postage for a quadruple-weight letter—i.e., a letter weighing up to four ounces.
The cover, which was mailed from the American Baptist Foreign Mission Society to the Reverend E.S. Burket, was postmarked in New York on February 16, 1934. The Society, which was founded in 1814, still exists, but now goes by the name International Ministries.3
The Swatow receiving mark to the right of the recipient's address is unfortunately smeared beyond readability, so it is impossible to determine when the mailpiece reached its destination.
Next: Sacagawea cover
References
Shantou. Merriam-Webster. Accessed 29 Oct. 2017.
Beecher, Harry W., and Anthony S. Wawrukiewicz. U.S. International Postal Rates, 1872–1996. Portland, Oregon: Cama Publishing Company, 1996.
History. International Ministries. Accessed 29 Oct. 2017.
Published 2018-06-17 Last updated 2020-07-14