A pretty envelope, plus Young Friends of the APS
I received this delightfully-franked envelope from the American Philatelic Society in the mail yesterday: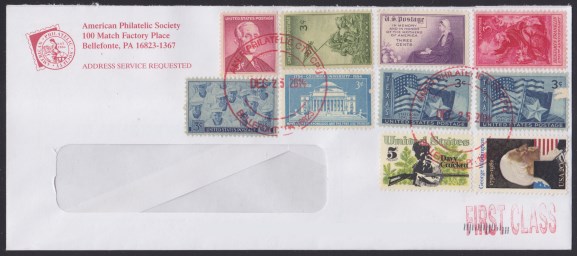 There are 10 stamps on here, which is no small feat! The envelope even caught my wife's eye; she recognized Whistler's Mother on the purple 3¢ stamp.
At any rate, the envelope contained a letter from the Young Friends of the American Philatelic Society, which is made up of collectors ages 20–49. The group is planning activities for the 2015 Ameristamp Expo being held in Riverside, California, February 13–15, and the organizers are trying to get a feel for how many people in that age bracket are planning to attend.
If you're part of the under-50 crowd but you missed out on previous news about the Young Friends of the APS, let me know. I'll be happy to put you in touch with the folks in charge.
Published 2014-12-30