175th Anniversary of First Postage Stamp to be Commemorated with Philosateleian Post Local Post Stamp
Jacksonville, Fla., USA, December 17, 2014—In 2015, stamp collectors will celebrate the 175th anniversary of the very first postage stamp: the United Kingdom's famed Penny Black, which went on sale in May 1840. On January 26, World Local Post Day, Philosateleian Post will issue a commemorative local post stamp based on the design of the Penny Black to mark the occasion.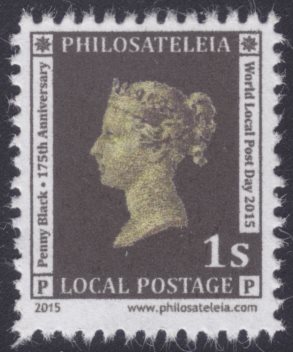 "The Penny Black was probably the most visible sign of major reforms to Britain's postal system that were eventually adopted around the world, making sending and receiving letters affordable for the masses," says Kevin Blackston, proprietor of the Jacksonville, Fla.-based private local post. "And the hobby of stamp collecting began soon after the Penny Black was issued."
The Local Post Collectors Society selected the Penny Black's anniversary as the official theme for World Local Post Day 2015. Philosateleian Post's new 1-stamp design features the same profile of Queen Victoria used on the original Penny Black, and text labels reading "Penny Black - 175th Anniversary" and "World Local Post Day 2015."
Technical Specifications
Format: sheets of 64 (8×8). Design size: 19×22 mm. Separation method: perforated 12. Adhesive: none; applied at time of use. Printing method: inkjet.
Philatelic Services
To receive a mint single of Philosateleian Post's Penny Black stamp, or for first day cover service, send either $2 or a self-addressed stamped envelope and your request to:
Kevin Blackston
Philosateleian Post
PO Box 57622
Jacksonville FL 32241-7622
United States of America
About Philosateleian Post
Founded in 2004, Philosateleian Post transports mail only from the Philosateleian Embassy to the nearest mail receptacle or post office. This private local post exists solely for the enjoyment of its proprietor and does not compete with any official mail service. For more information, please visit http://www.philosateleia.com/post/
Published 2018-06-17