Red-shouldered Hawk, Simple Frame Grace Newest Philosateleian Post Local Post Stamp
Jacksonville, Fla., USA, May 12, 2015—The red-shouldered hawk can be found throughout much of North America. On July 1, the raptor will come to Philosateleian Post when it appears on a new stamp issued by the Jacksonville, Florida-based private local post.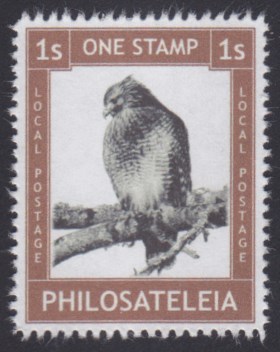 The stamp's design depicts a red-shouldered hawk at rest on a tree limb. The black vignette is surrounded by a simple brown frame identifying the stamp as local postage.
Red-shouldered hawks grow to as much as two feet long and have wingspans topping four feet across. They live throughout much of the eastern half of the United States and along the California coast year round, and during some seasons even make their way into Canada and Mexico.
"These birds are relatively common, but it is still a treat to see something like this live, up close and in person," says Kevin Blackston, Philosateleian Post's proprietor, who in 2014 took the photo on which the stamp is based. "Philosateleian Post has not issued a stamp picturing wildlife since 2012, but I hope collectors will consider this one worth the wait."
The red-shouldered hawk stamp is Philosateleian Post's second new issue of 2015, and its 25th different design since beginning operations in 2004.
Technical Specifications
Format: sheets of 30 (6×5). Design size: 28×36 mm. Separation method: perforated 12. Adhesive: none; applied at time of use. Printing method: inkjet.
Philatelic Services
To receive a mint single of Philosateleian Post's red-shouldered hawk stamp, or for first day cover service, send either $2 or a self-addressed stamped envelope and your request to:
Kevin Blackston
Philosateleian Post
PO Box 57622
Jacksonville FL 32241-7622
United States of America
About Philosateleian Post
Founded in 2004, Philosateleian Post transports mail only from the Philosateleian Embassy to the nearest mail receptacle or post office. This private local post exists solely for the enjoyment of its proprietor and does not compete with any official mail service. For more information, please visit http://www.philosateleia.com/post/
Published 2018-06-17