Bicolored reproductions reimagine 1934 National Parks stamps
It has been a long time since I did any stamp production beyond printing and perforating additional copies of Philosateleian Post's Contemporary Art stamp issued earlier this year. Last week, however, I finally got around to working on something that had been on my want-to-do list for a long, long time: bicolored reproductions of the 1934 National Parks Year stamps.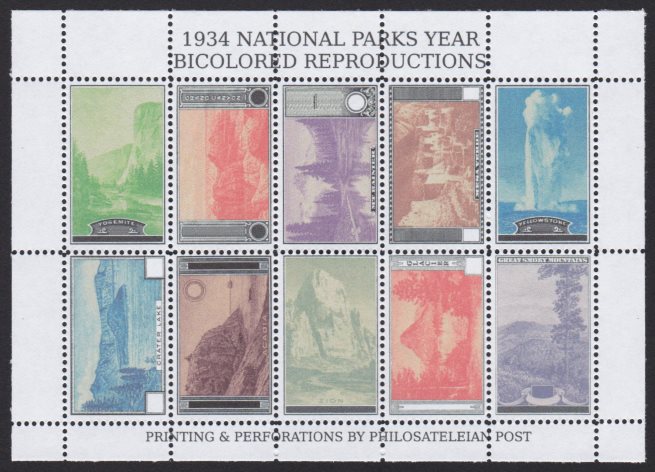 I scanned a mint set of stamps that I picked up from the local stamp dealer, then modified each of the designs to remove any references to U.S. postage or face values; these are not real stamps, and I don't want to give the false impression that they are! After that, I turned the frame of each stamp black, and modified the color of the vignettes for the Acadia and Great Smoky Mountains stamps since the originals were printed in black.
Beginning in the 1930s, United States stamps tended to minimize frames in favor of a larger vignette, so bicolored variations are arguably less impressive than they might otherwise have been. Nevertheless, I had fun doing these, and it got me back into some stamp production work, so I think it was a worthwhile project.
If you like what I've done, copies of this sheet are available through my online shop.
Published 2018-11-12