Fantasy stamp from Nineteen Eighty-Four
While recently re-reading George Orwell's Nineteen Eighty-Four, or 1984 if you so prefer, I ran across a brief reference to postage stamps, of all things. The passage reads thus:
Like an answer, the three slogans on the white face of the Ministry of Truth came back at him:

WAR IS PEACE
FREEDOM IS SLAVERY
IGNORANCE IS STRENGTH.

He took a twenty-five cent piece out of his pocket. There, too, in tiny clear lettering, the same slogans were inscribed, and on the other face of the coin the head of Big Brother. Even from the coin the eyes pursued you. On coins, on stamps, on the covers of books, on banners, on posters, and on the wrappings of a cigarette packet—everywhere.
This brief mention of stamps got me wondering what stamps from Orwell's Oceania might look like, and I came up with the cinderella stamp—or should I say the dystopian fantasy stamp?—pictured here. It is as you can probably tell very much inspired by the general aesthetic of British stamps, which I thought was not inappropriate considering that the story is set in London.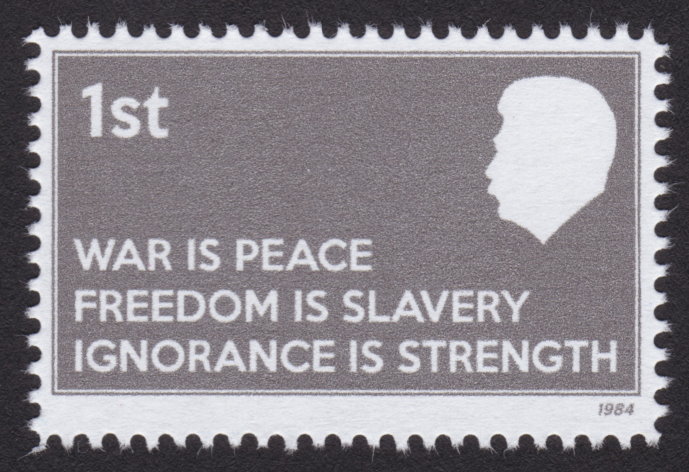 Nineteen Eighty-Four will still be under copyright protection for a long time here in the United States, and I have no intention of trying to sell my creation since I have no particular desire to run afoul of whoever owns the rights to the book. Consider it merely a bit of fan art. I do have ideas for another stamp or two if time permits, however, and will certainly share here if I do any more designing.
Published 2020-10-29 Last updated 2020-10-31