Bophuthatswana stamps feature verses from Book of John
Although I'm a professing Christian, I've never made a concerted effort to start a collection of Bible-themed stamps. It's not that I have anything in particular against them; indeed, there are more than a few United States stamps, and I'm not talking about the many Christmas issues released since the 1960s, that have Christian links. It's simply not something that I've ever pursued.
During the Texas Stamp Dealers Association's recent bourse in San Antonio, however, I stumbled across this set of four stamps issued for the South African "Homeland" of Bophuthatswana in 1981. What really caught my eye was the wheat field on the 25¢ stamp since I didn't have a copy of that for my somewhat neglected landscapes collection, but the scriptures on all four are extremely meaningful.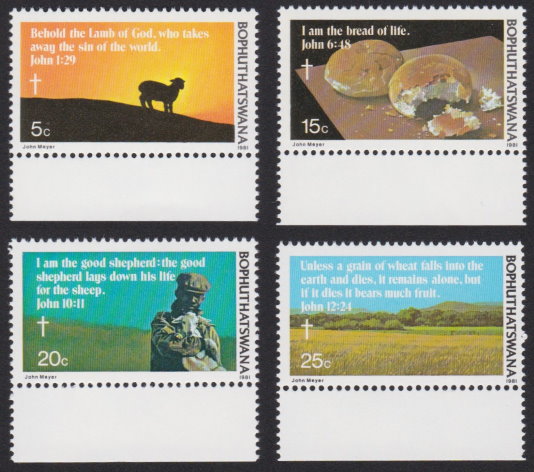 Will this acquisition be the beginning of a thematic collection of Bible-related stamps? Given how little time I feel like I have to work on my collection as it is, probably not, but they make for a nice little diversion from my normal areas of interest.
Published 2020-10-25