Philosateleia's supporters start 2021 generously
It has been a while since I've made a "thank you" post here, but after receiving several contributions from supporters over the first couple of months of this year, I feel like it's time to recognize a few folks.
First, long-time contributers James F. and Suzanne M. each sent some cash my way to help pay Philosateleia's bills. As I've mentioned in the past, I maintain The Philosateleian U.S. Stamp Album and Philosateleia for personal fulfillment and, I hope, as a way to give back a bit to the hobby that I've enjoyed so much, but I really do appreciate gifts from people like James and Suzanne since they help cover the costs of keeping this site online.
Second, Philosateleian Post Horn subscriber Steve R. last month sent a small Priority Mail box full of stamps as a gift. Some of those will be going into my own albums, but there are some nice items that will also be featured in upcoming Post Horn giveaways. You'll get to benefit from Steve's generosity, too!
Finally, reader David K. knows that I'm a big 14¢ American Indian enthusiast, and sent a nice plate number single that he found in a lot of stamps to me. This will fit right into my collection.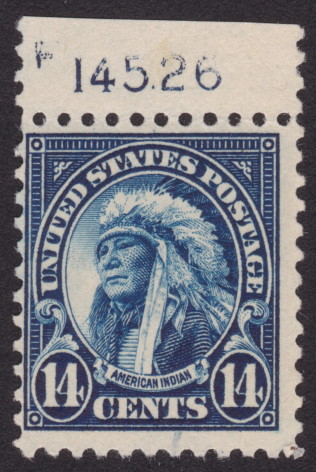 Once again, thank you to everyone who has contributed both with monetary gifts to help keep Philosateleia going and stamps for my own collection. I really appreciate the generosity of my fellow collectors!
Published 2021-03-01 Last updated 2021-03-02