James Manufacturing Parcel Tag
Parcel post tags are seemingly one of the least likely pieces of postal history to have been preserved for decades, yet the next item in this exhibit is exactly that: a tag that was attached to a piece of fourth class mail.
The tag in question was mailed from the James Manufacturing Company of Fort Atkinson, Wisconsin, to L. den Houter of Grand Rapids, Michigan, and bears a single copy of the 14¢ American Indian stamp with a Fort Atkinson precancel.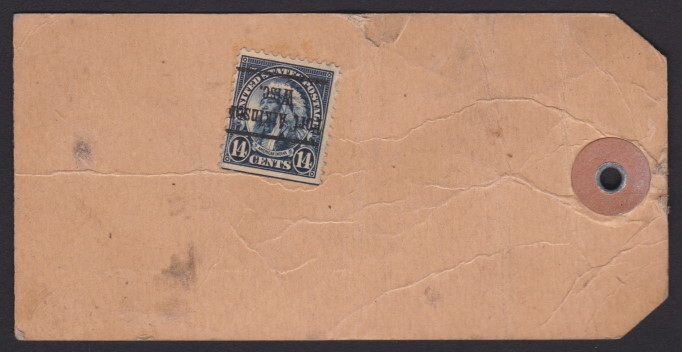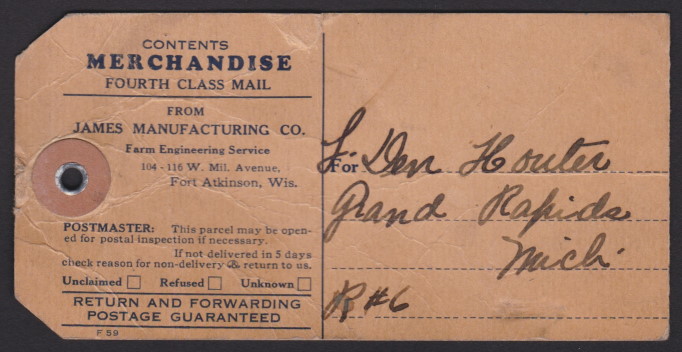 With no dated markings on the tag, it's impossible to say exactly when it was mailed, but we can narrow down the postage rate to a couple of options. Grand Rapids was within a radius of 150–300 miles of Fort Atkinson, placing it within the third parcel post zone.1 Prior to April 15, 1925, 14¢ postage covered a five-pound parcel mailed that distance with the first pound costing 6¢ and each additional pound costing 2¢. From that date forward until October 1932, the cost for the first pound increased to 8¢, so a 14¢ stamp would have covered postage for a four-pound shipment since postage for each additional pound remained at 2¢.
In addition, nothing on the tag tells us what was attached to it, but there's no doubt it was related to agriculture. The James Manufacturing Company in the mid 1920s claimed to be the world's largest manufacturer of equipment for barns and chicken houses, in addition to offering barn design services to farmers.2 3 The Jamesway Incubator Company, which still manufactures poultry incubators, traces its roots to the James Manufacturing Company.4
Next: MacWhyte parcel tag
References
Published 2021-11-01 Last updated 2022-06-20