Inverted Spider-Man returns
Back in April, I shared a post about one messed-up APC label picturing Spider-Man. In that case, the machine was apparently not properly reprogrammed after the Spider-Man paper was loaded, which resulted in an apparent "invert" with the then-current USPS design on it.
John Ryskamp writes that he recently ran across a machine that had been reprogrammed, but where the paper was still loaded incorrectly. That gave rise to this label with bar code and insignia appropriate for the preprinted Spider-Man paper, but as with the April label, Spider-Man is upside down.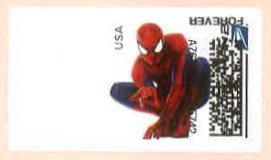 My thanks to John for sharing this scan. Do you know of any other Spider-Man label varieties? Let us know!
Published 2014-11-08