Spider-Man upside down on botched APC label
A little more than a year ago, I wrote about how postal employees not reprogramming Automated Postal Centers after loading in preprinted paper led to the creation of error labels. As you might expect, it's happening again—and with some interesting results.
The USPS is promoting the Spider-Man 2 movie with a variety of marketing efforts, including using special preprinted paper in its APC machines. As was the case with the aforementioned holiday mailbox labels, the machines apparently are not always being properly reprogrammed when the new paper is loaded, as evidenced by this example postmarked in Bethpage, New York.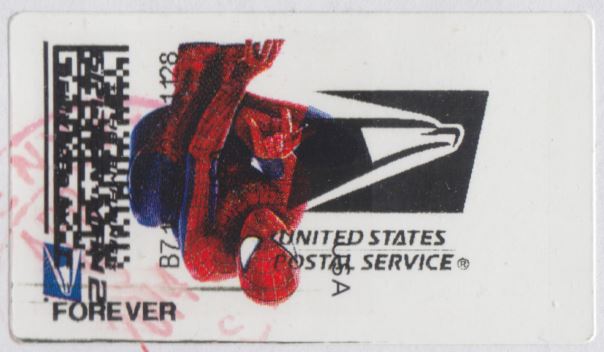 As you can see, not only is the preprinted Spider-Man present, but the print-on-demand USPS logo is, too! "Normal" Spider-Man labels don't have that.
What makes this particular example even more interesting is that Spider-Man is upside down in relation to the USPS logo. (Not that Spider-Man couldn't do that, but that's beside the point.) The other examples I've seen of error labels for sale on eBay have the logo oriented in the same direction as Spider-Man.
To the best of my knowledge, it's not possible for the print-on-demand logo to be printed upside down. The only conclusion I can reach, then, is that the preprinted paper was loaded into the machine backward, or upside down, however you want to describe it. This resulted in a sort of an invert.
Have you spotted any examples of the new Spider-Man label, either normal or errors? Let's hear about them!
Published 2014-04-13