Principality of Thanatos stamps picture Guard, cats
I wrote a little more than a year ago about receiving a "registered" cover from the Principality of Thanatos, a micronation supposedly based on an island off the coast of Scotland. Recently, I received another mailing, this time containing copies of the Principality's newest stamps.
One of the stamps, a £2.50 value, pictures the Thanatos Guard. According to documentation from the Principality, the 12-member Guard serves as the island's police force in addition to fulfilling ceremonal duties such as escorting the prince's horse-drawn carriage between settlements.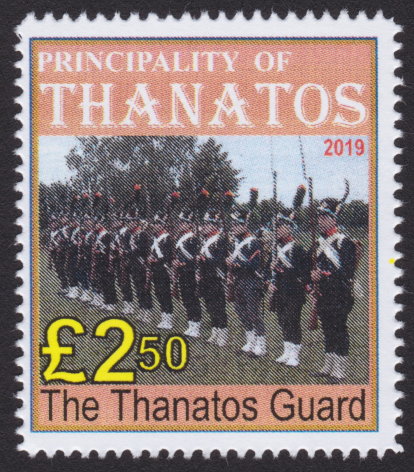 A completely unrelated set of 50p, £1, £1.50, and £4 stamps features various images of cats. According to a release from the Principality, five cats were recently acquired to help bring a rodent infestation under control; one might presume the new stamps picture those very same felines, but that was not specifically stated.

Micronation stamps are similar to local post stamps, and depending on how they're used could be categorized as local post stamps. Some material of this sort drifts right on over into pure fantasy territory, of course, but I think it's interesting nonetheless.
Published 2019-11-13