Unveiling my new Republic of Texas fantasy stamps
When I designed my first Republic of Texas fantasy stamps in 2015, I intended to eventually create a whole collection of stamps that could have been if independent Texas had issued its own stamps. My big plans got delayed by real life, but I've finally designed the second entry in my Republic of Texas series: a set of five stamps commemorating the Battle of Gonzales, which took place on October 2, 1835.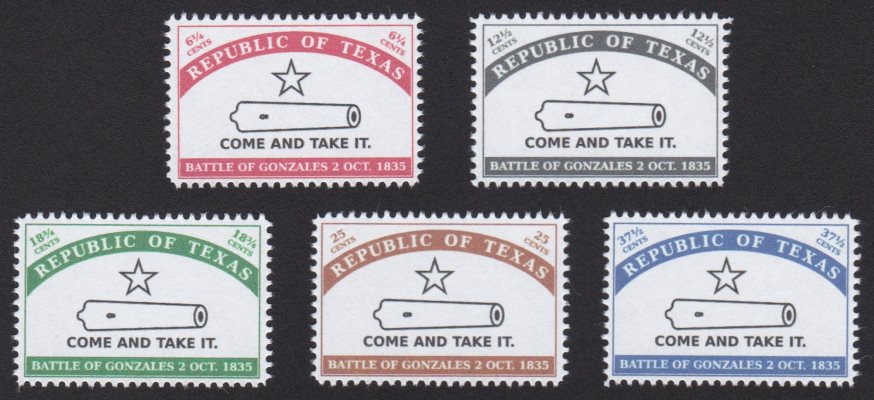 As was the case with my initial set of Republic of Texas stamps, these labels are denominated in 6¼¢, 12½¢, 18¾¢, 25¢, and 37½¢ values that match up with actual postage rates used during the first year of the Republic of Texas.
I'll be the first to admit that my initial set of definitives is more visually pleasing than this batch, but I'm okay with the way these turned out. This is the third design I've completed in less than a month, the other two being my upcoming Philosateleian Post moon landing stamp and a not yet announced second Philosateleian Post issue for 2019.
If you like my new stamps, you can order a set from my online shop.
Published 2018-12-31