Republic of Texas fantasy stamps
The Republic of Texas existed only from 1836–46, becoming the 28th state in the United States of America a year before the USA issued its first postage stamps. Texas never had its own stamps, but it did have a functioning postal system that was established even before independence was formally declared.
Although the Republic of Texas did not produce postage stamps, Philosateleia's editor imagined that an initial set of definitives might have looked like these. These cinderellas were produced in sheets of 14.

For the first anniversary of the Battle of Gonzales, the fledgling republic could have issued a set of stamps commemorating the Battle of Gonzales. The vignettes of these cinderellas reproduce the basic design of the "Come and Take It" flag used by Texan settlers.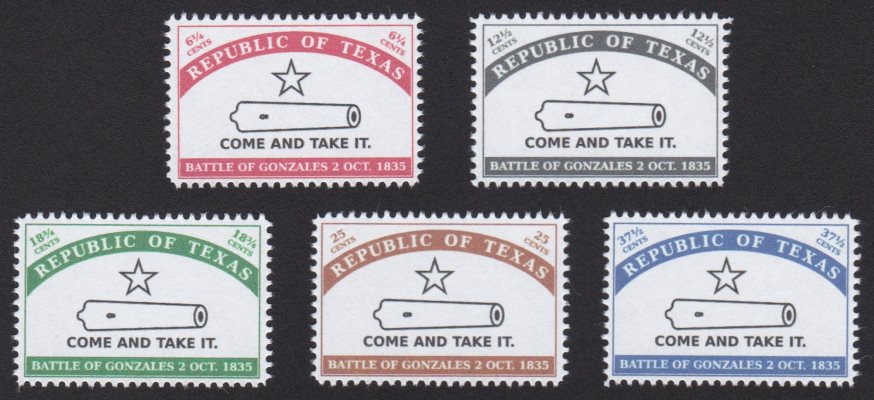 The denominations of these fantasy stamps are based on actual postage rates that were in effect during the early years of the Republic of Texas:1
| Denomination | Distance |
| --- | --- |
| 6¼¢ | up to 20 miles |
| 12½¢ | 20–50 miles |
| 18¾¢ | 50–100 miles |
| 25¢ | 100–200 miles |
| 37½¢ | 200+ miles |
Related
References
Newsom, W. L. The Postal System of the Republic of Texas. The Southwestern Historical Quarterly, Vol. 20 No. 2, Oct. 1916. Accessed 31 Dec. 2018.
Published 2018-06-16 Last updated 2018-12-31