Adanaland minisheet includes diamond-shaped anniversary stamps
This past March, I shared pictures of a couple of cinderella stamps created by Alan B. of England. A note I recently received from him contained evidence that he has been busy again.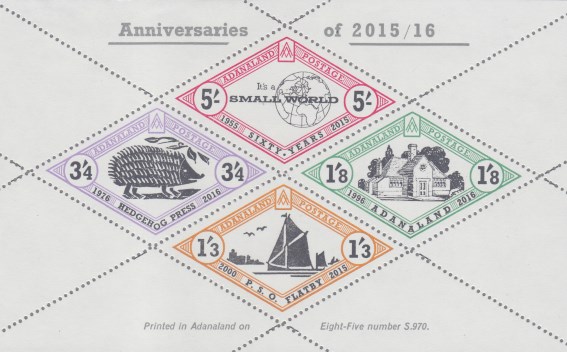 I commented previously that Alan does very nice letterpress printing, and these new diamond-shaped stamps are no exception. They commemorate four different events:
60th anniversary of "It's a Small World"
40th anniversary of Alan's Hedgehog Press
20th anniversary of Adanaland
15th anniversary of PSO Flatby (design appears to depict a sailboat, but I really don't know exactly what this is; perhaps Alan will weigh in)
I know from operating my own perforating machine that getting perforations to line up just right is tricky enough, so I can only imagine how challenging it must have been to accomplish that on diamond-shaped stamps. Again, though, Alan has done a very nice job, and his work is the sort of thing I like to include in my collection.