Solo use of American Indian stamp on a registered mail cover
A number of years ago, I decided to begin seeking out examples of my favorite stamp, the 14¢ American Indian, on cover. Since then, I've accumulated a number of examples, but only a couple of non-FDC/philatelic solo uses.
Only a couple, that is, until very recently, when I was able to pick up this lovely piece of registered mail sent between two banks in 1924: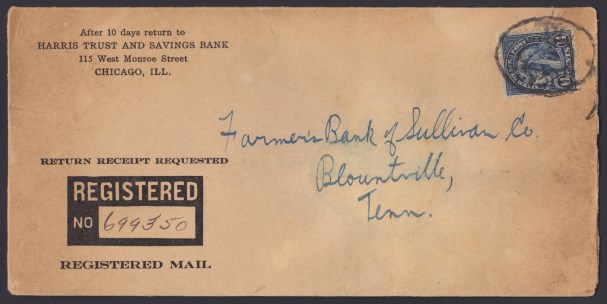 This is a fine example of the 14¢ stamp paying postage on a two-ounce letter (at a rate of 2¢ per ounce) plus a 10¢ registration fee. On the surface, it seems like it would be the most easily achieved example of a 14¢ rate during the stamp's period of use, but the registration fee increased from 10¢ to 15¢ less than two years after the stamp was issued, so maybe it's not as common as I might have thought.
I've prepared a full writeup on this cover as part of my online exhibit, 14 Cents: the American Indian Stamp.
Published 2018-08-15