Chicago Bank Cover
As noted elsewhere, solo uses of the American Indian stamp are not often found since its 14¢ face value did not match any of the most common postage rates. There were, however, a few ways that the stamp could be used by itself, and the registered cover pictured here is one such example.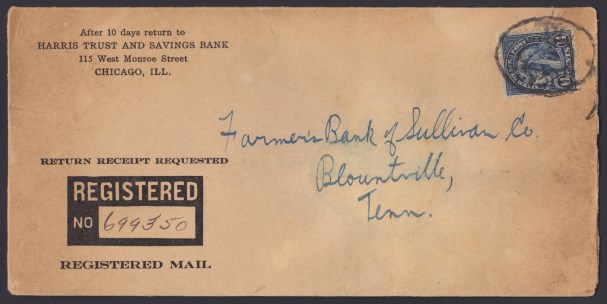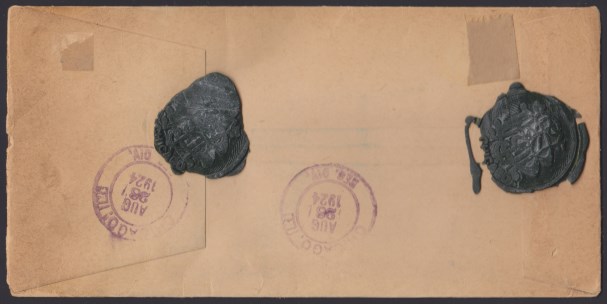 This toned but attractive cover was sent by Harris Trust and Savings Bank of Chicago, Illinois, to Farmers Bank of Sullivan County in Blountville, Tennessee, with postmarks on the reverse indicating that it was mailed on August 28, 1924. The 14¢ stamp neatly pays the postage for a two-ounce piece of registered mail: 2¢ per ounce for postage, and 10¢ for the registration fee.1 At the time this envelope was mailed, there was no charge for the return receipt requested on the front of the cover.
Beginning in April 1925, the registration fee increased to 15¢, and at the same time, a 3¢ charge was introduced for a return receipt. In other words, although mailing a two-ounce registered cover was probably the easiest way to need exactly 14¢ postage while the American Indian stamp was current, that rate was only possible for just under two years after the stamp was issued.
On the back of the cover are two wax seals of Harris Trust and Savings Bank, which has a history dating back to the 1880s and still does business today as BMO Harris Bank.2 3 4 In contrast, references to Farmers Bank of Sullivan County are few and far between, and it might be presumed that it was one of the many banks that failed during the Great Depression.
Next: Los Angeles cover
References
Published 2018-08-14 Last updated 2018-08-16