Philosateleian Post issuing American Indian local post stamp
On May 1, 1923, the 14¢ American Indian stamp went on sale in Washington, D.C., and Muskogee, Oklahoma. On May 1, 2013, Philosateleian Post will commemorate the 90th anniversary of the American Indian stamp's issue with an American Indian stamp of its own.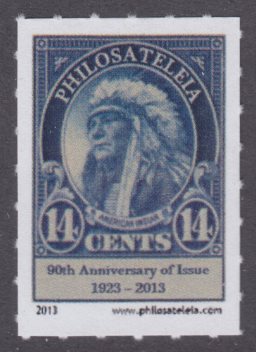 Collectors are invited to request a free copy of the Philosateleian stamp; see the Philosateleian Post's press release for details.
Published 2013-03-29