90th Anniversary of 14¢ American Indian Stamp Being Commemorated by Philosateleian Post
Jacksonville, Fla., USA, March 20, 2013—The famed 14¢ American Indian stamp first issued by the United States in 1923 is the subject of the latest commemorative stamp from Philosateleian Post. The new local post stamp will be issued on May 1, exactly 90 years to the day after the original stamp was placed on sale in Washington, D.C., and Muskogee, Okla.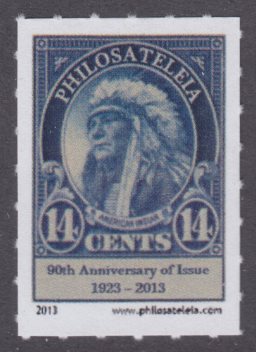 "For years, I have considered the American Indian stamp to be one of the most beautiful the United States has ever issued," says Kevin Blackston, proprietor of Jacksonville, Fla.-based Philosateleian Post. "To be able to incorporate this iconic stamp into Philosateleian Post's own history is truly exciting."
Clair Aubrey Huston, an artist with the U.S. Bureau of Engraving and Printing, designed the 14¢ American Indian stamp. He based the vignette on a photo of Hollow Horn Bear, a Brule Sioux warrior who was photographed in 1905 by De Lancey Gill.
The stamp has long been a favorite with collectors. In addition to appearing on the original United States stamp, which was overprinted for use in the Canal Zone, the design was used in a miniature sheet and on a souvenir sheet, both of which were issued in 2006 by the Marshall Islands.
Technical Specifications
Format: sheets of 64 (8×8). Design size: 19×26 mm. Separation method: roulette 5½ (approx.). Adhesive: none; applied at time of use. Printing method: laser.
Philatelic Services
For a complimentary mint single of the American Indian stamp, or to receive first day cover service, send a SASE and your request to:
Kevin Blackston
Philosateleian Post
PO Box 57622
Jacksonville FL 32241-7622
United States of America
About Philosateleian Post
Founded in 2004, Philosateleian Post transports mail only from the Philosateleian Embassy to the nearest mail receptacle or post office. This private local post exists solely for the enjoyment of its proprietor and does not compete with any official mail service. For more information, please visit http://www.philosateleia.com/post/
Published 2018-06-17