German postcard tells story of long journey
During my most recent visit to San Antonio's local stamp shop, ABC Stamps, I spent a few minutes browsing through one of the boxes of postcards. Last year, I found a genuine used 1¢ Washington coil stamp on a postcard in one of those boxes; the odds of finding anything else of particular value are probably pretty slim, but it's always fun to look.
The postcard that I ended up buying during my most recent visit is in rough shape and not, so far as I can tell, of any particular value. The heavily postmarked stamp is not even from a country that I normally collect, but the postcard itself has a bit of a story to tell.
The picture side of the postcard bears the text "Fröhliche Ostern!" (German for "Happy Easter!") plus a picture of a trouser-clad rabbit carrying a basket of flowers and riding a stick horse. That's not exactly my idea of great art or something that I would ever send personally, but hey, tastes in such things were probably a bit different over a hundred years ago in Germany. As you can probably tell, this postcard is creased and bits of the picture have flaked off; it has certainly seen better days.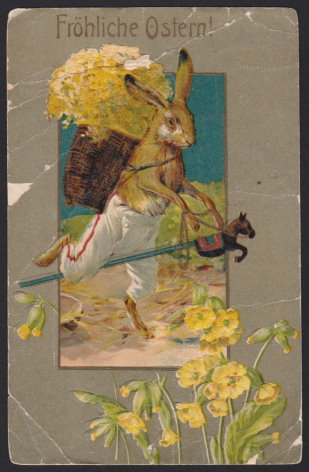 The 10-pfennig Germania stamp on the address side is presumably some flavor of Germany Scott 83. Some valuable color shades are listed in the Scott 2015 Classic Specialized Catalogue of Stamps & Covers (paid link), but I know next to nothing about shades on early 20th century German stamps, and it seems highly unlikely that I scored one of the valuable ones. I'm assuming I have something just as common as it can be.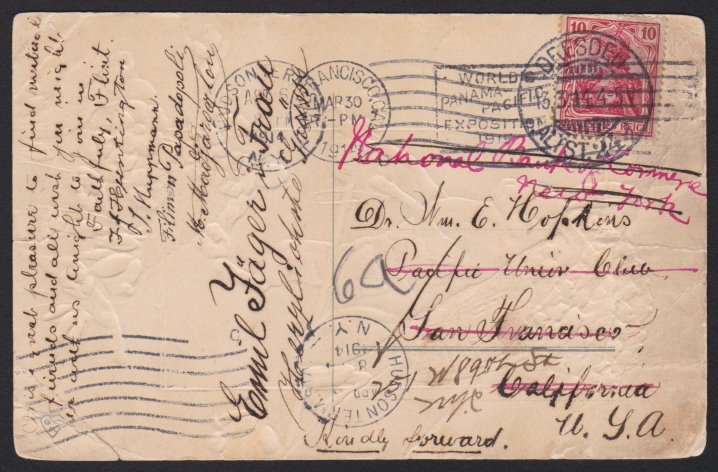 The note written vertically on the address side of the postcard, which is addressed to Dr. William E. Hopkins, is a bit difficult to make out, but reads something along the lines of, "It is a great pleasure to find vocational(?) friends and all wish you might be with us anight(?) to join in." (If you have a better suggestion, please leave a comment at the end of this post.) That message is followed by several signatures presumably belonging to acquaintances of Dr. Hopkins.
What really caught my eye, however, were the multiple addresses and postmarks on the card. If I'm reading the trail correctly, we see:
The postcard was addressed to Dr. Hopkins at the Pacific Union Club in San Francisco, California, and postmarked in Dresden, Germany, on March 13, 1914 ("13/3/14" using the European convention of writing dates as day/month/year). I'm guessing the postcard probably sailed from Germany to New York City, then traveled by land from New York City to San Francisco.
Dr. Hopkins was no longer present in San Francisco. The address was scratched out and replaced with National Bank of Commerce in New York City, and the postcard received a March 30 San Francisco slogan postmark advertising the World's Panama-Pacific Exposition of 1915. The postcard was then dispatched eastward.
When the postcard reached New York City, the National Bank of Commerce address was scratched through, and someone scribbled an address of 751 West 89th Street. The postcard received two April 6 Hudson Terminal Station postmarks—the one that's upside down was probably applied because the first was not particularly legible due to the signatures and existing San Francisco postmark already present—and was forwarded on once more.
We can conclude that the postcard must have finally reached its intended recipient following this final rerouting as there do not appear to be any markings indicating that any additional forwarding took place. I don't see any indication that any charges were levied for the forwarding, either, which means the postcard traveled from Germany to the United States and then back and forth cross the width of the continental U.S. for roughly the equivalent of 2¢. That seems like a bargain to me!