Used and tied to postcard, genuine in all respects
A couple of months ago, I wrote about finding an apparent Scott 443 Washington coil stamp in the $0.50 postcard box at the local stamp store, ABC Stamps. As I mentioned at the time, Washington-Franklin coils are often faked because of their relatively high catalogue value compared to their fully perforated siblings from sheets and booklets, and although the stamp I found looked okay to me, I wanted to be sure, so I shipped the postcard off to APEX for an expert opinion.
When I checked my post office box yesterday afternoon, I had a notice that a piece of certified mail was being held for me, and it turned out to be the postcard back from APEX. When I got home, I opened it up, and the certificate says…
"United States Scott No. 443, used and tied to postcard, genuine in all respects, postcard has a few creases."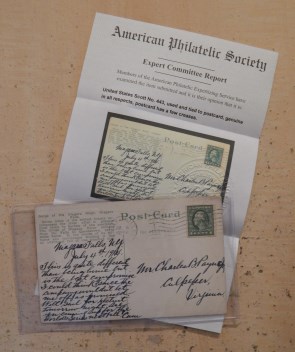 As you can see, my improbable find turned out to be the real deal! For a total outlay of around $27, I have an authenticated Washington-Franklin coil with an on-cover value of $60.
Published 2018-05-31