New Purgatory Post stamp pictures West Swanzey bridge
If you've been keeping up with Scott A.'s Purgatory Post local post stamps, you're no doubt aware of the series he is producing commemorating covered bridges in New Hampshire. Scott was kind enough to send a cover bearing a copy of his most recent bridge stamp, which pictures the West Swanzey bridge.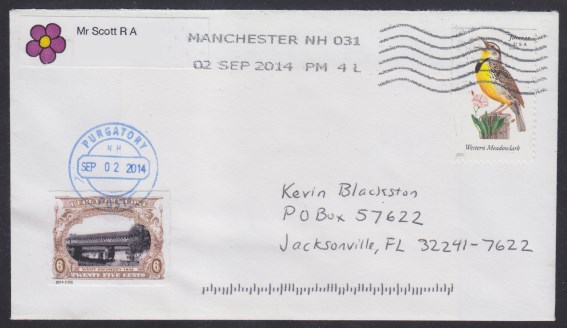 The West Swanzey bridge was built in 1832 for a bit more than $500. Although there's a sidewalk along one side of the bridge, authorities closed it to vehicles in 1990.
Concerns about the bridge's safety arose as far back as the 1970s; at that time, students had to disembark from their school bus and walk across the bridge so that the combined weight of bus and children would not cause the aging structure to collapse.