Los Angeles Cover
The 14¢ American Indian stamp saw use even in the United States' smallest post offices; an example of that is the Edmore, North Dakota, cover previously reviewed. Most copies of the stamp were probably sold in larger cities, however, and such was the case with our next exhibit, a registered envelope postmarked in Los Angeles, California, on February 8, 1937. Coincidentally, that was the same day the envelope from North Dakota was mailed.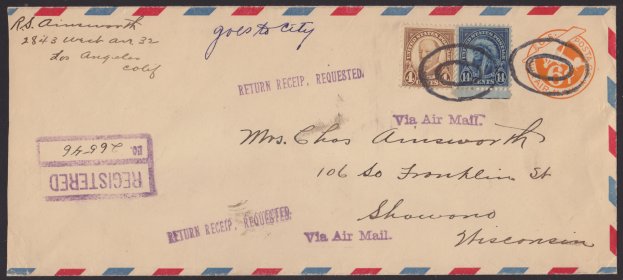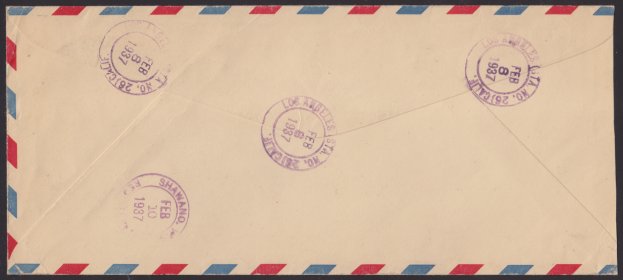 This 6¢ airmail envelope bears one copy of the rotary press printed American Indian stamp, plus a copy of the 4¢ William Howard Taft sheet stamp that used the same frame. The 24¢ of postage paid the 6¢ airmail rate, 15¢ for registration, and 3¢ for a return receipt. In addition to the "Registered" handstamp, the envelope was marked "Return Receip. Requested" and "Via Air Mail." Violet ink was used for all of those markings. A handwritten "goes to city" notation is also present.
The stamps and envelope were canceled with bold mute cancels. The reverse of the cover shows Los Angeles postmarks from February 8, plus a Shawano, Wisconsin, postmark dated February 10.
One reference to a Mrs. Charles (Alice) Ainsworth who is buried in Shawano indicates she had a son named Robert who lived in Los Angeles.1 2 Robert may have been the R. S. Ainsworth who mailed the envelope, but neither the identity of the sender nor that of the recipient can be proven beyond doubt.
Next: Lackey cover
References
Charles Ainsworth/Alice Whitehouse. My Families Genealogy. 18 Feb. 2001. Accessed 1 Jan. 2011.
Alice Alvira Whitehouse Ainsworth. Find A Grave. Accessed 1 Jan. 2011.
Published 2018-06-17