Lackey Cover
Most envelopes bearing copies of the 14¢ American Indian stamp appear to have been addressed by hand; indeed, the next cover is the only example in this exhibit on which the mailing address was preprinted. As such, it represents a truly commercial usage of the stamp in every sense of the word.
The cover was mailed by H. Rodda of Whittier, California, to George Lackey, an agent for Massachusetts Mutual Life Insurance Company in Detroit, Michigan, and a former president of Million Dollar Round Table.1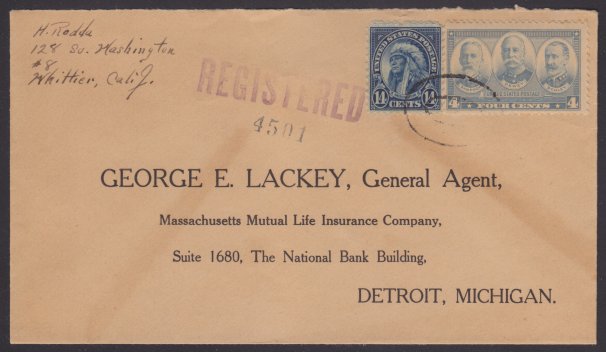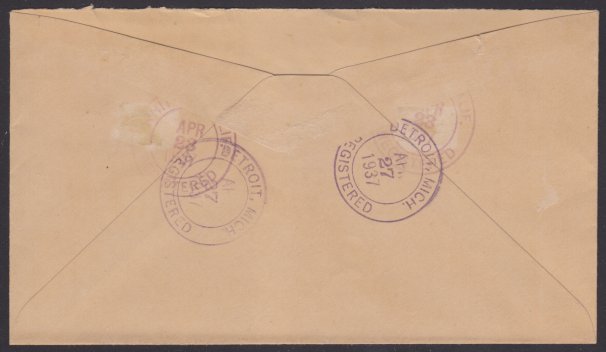 In addition to the American Indian, the cover bears a copy of the 4¢ Sampson, Dewey, and Schley stamp from the 1936–37 Navy issue; together, the stamps pay 3¢ first-class postage and a 15¢ registration fee. The stamps are canceled with a mute handstamp. A "Registered" handstamp in violet and a registration number immediately to the left of the stamps are the only other postal markings on the front of the envelope.
On the reverse, we find April 23, 1937, postmarks from Whitter, and April 27 postmarks from Detroit.
Next: Berkeley cover
References
MDRT 2010 Overview. Million Dollar Round Table Media Room. Accessed 4 Jan. 2011.
Published 2018-06-17