North Dakota Cover
Sometimes there is little to say about a cover other than where it came from and where it went, and sometimes that is interesting all by itself. Such is the case with our next example, which bears a top margin copy of the rotary press printed 14¢ American Indian stamp.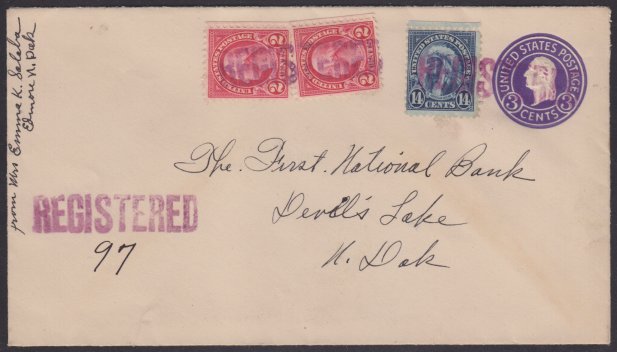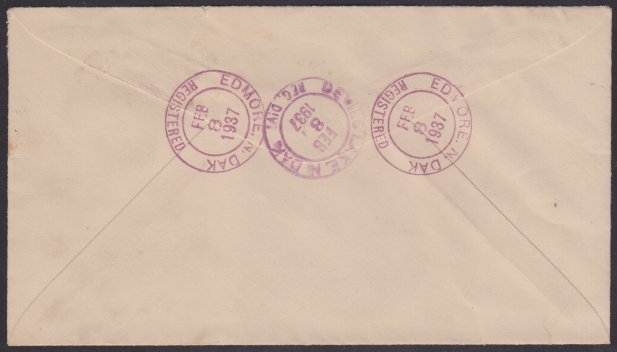 Emma Solaba of tiny Edmore, North Dakota, mailed this envelope to the First National Bank in the town of Devils Lake on February 8, 1937. Postmarks were applied to the back of the cover in both communities on that day, which is no surprise since the trip is only about 40 miles long by car.1 It is intriguing that the post office in a town as small as Edmore had a dedicated postmark for registered mail.
In addition to the American Indian stamp, this 3¢ George Washington stamped envelope bears a pair of 2¢ George Washington stamps from the right margin of a sheet; those stamps are also from the rotary press printing. The stamps, which were canceled with the same violet "Registered" handstamp used elsewhere on the front of the cover, were apparently added to the envelope to pay an 18¢ registration fee.
Next: Los Angeles cover
References
Edmore, ND to Devils Lake, ND. Google Maps. Accessed 19 Dec. 2010.
Published 2018-06-17