FAM 9 Colombia Cover (Balboa Heights, Canal Zone, to Lima, Peru)
FAM 9's first flight took off from Cristobal, Canal Zone, on May 17, 1929. Covers were prepared in many other cities, however, and our next example was therefore ultimately carried on the same flight as a previously reviewed cover postmarked in Miami, Florida.
Prepared by Canal Zone stamp dealer R. S. Carter, this envelope was addressed to Elizabeth Hearn in care of Joseph Vielbig.1 That gentleman was an accountant for National City Bank of New York, which is today known as Citibank.2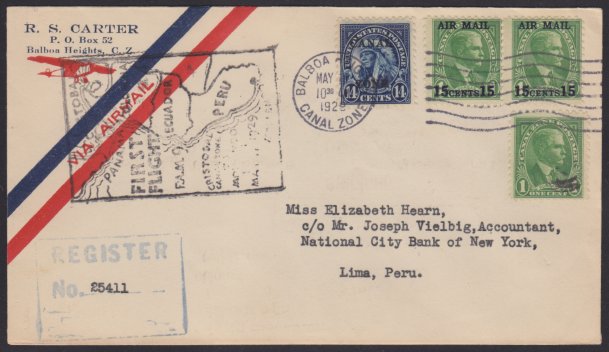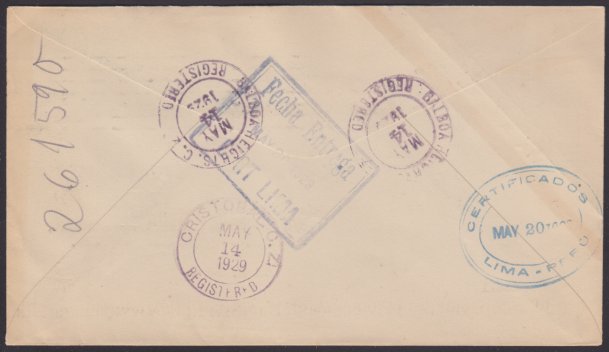 Besides the flat plate printed American Indian stamp with pointy top A's in its overprint, there are three copies of the Canal Zone's William Gorgas stamp of 1928 on the cover—two of those overprinted and surcharged for use as 15¢ airmail stamps.
The cover received an attractive "first flight, F.A.M. 9" handstamped cachet. That design includes the legend "Cristobal, Canal Zone, to Mollendo, Peru, March 1929," and shows a map of the countries visited by FAM 9's initial flight: Panama (of which the Canal Zone, although controlled at that time by the United States, was a part), Colombia, Ecuador, and Peru. A "Register" handstamp in blue ink is also present.
Carter mailed the envelope from Balboa Heights, Canal Zone, on May 14. A postmark on the reverse indicates it arrived in Cristobal later that day, where it was held until the airmail flight three days later.
The back of the cover also bears two different postal markings from Lima, Peru, both of which were dated May 20.
Next: FAM 9 cover (Balboa Heights, Canal Zone, to Buenaventura, Colombia)
References
Plett, Michael, Kenneth Gilbart, and Richard Bates. George W. Brett Papers and Documents Finding Guide. National Postal Museum. 22 July 2010. Accessed 8 Jan. 2011.
New York Bank History. Scripophily. Accessed 8 Jan. 2011.
Published 2018-06-17