FAM 9 Cover (Balboa Heights, Canal Zone, to Buenaventura, Colombia)
Multiple first flights took place on FAM route 9 in May and June 1929. This cover was carried on the May 24 flight between Cristobal, Canal Zone, and Buenaventura, Colombia.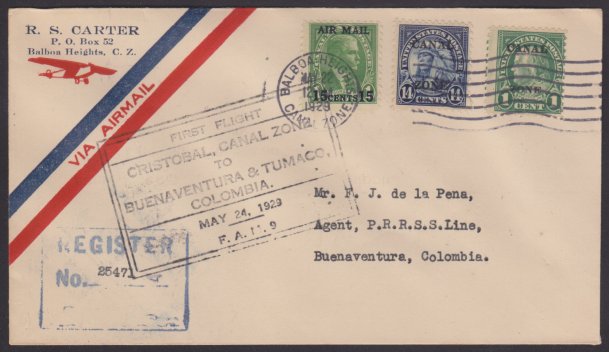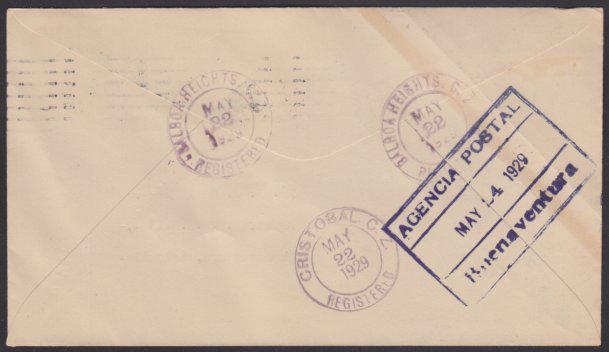 The cover bears a copy of the flat plate printed 14¢ American Indian stamp with pointy top A's in its overprint, a 1¢ Benjamin Franklin stamp with flat top A's in its overprint, and a William Gorgas stamp overprinted and surcharged as a 15¢ airmail stamp.1 The "Register" handstamp in blue ink is accompanied by a cachet marking FAM 9's "first flight, Cristobal, Canal Zone to Buenaventura & Tumaco, Colombia."
The cover was postmarked in Balboa Heights, Canal Zone, and in Cristobal on May 22. A May 24 postal marking from Buenaventura on the reverse demonstrates the flight on which the piece was covered arrived in Colombia on the same day it left the Canal Zone.
Stamp dealer R. S. Carter, who mailed an envelope carried on a flight to Lima, Peru, just a week earlier, also prepared this cover. It was addressed to F. J. de la Pena, an agent for what the initials in the address would suggest was the Panama Railroad Steamship Line.
Next: Big Four cover
References
Kloetzel, James, ed. Scott 2010 Specialized Catalogue of United States Stamps & Covers. Sidney, Ohio: Scott Publishing Co., 2009.
Published 2018-06-17 Last updated 2021-01-17