FAM 9 Cover (Miami, Florida, to Mollendo, Peru)
The determined collector should be able to locate examples of the 14¢ American Indian stamp on cover without great difficulty. Try finding a used pair of the stamps, however, and your task may prove to be a bit more challenging.
Exactly such an unusual usage of the American Indian stamp is found on this envelope mailed from Miami, Florida, to a Mr. H. M. Clark of Mollendo, Peru, in 1929.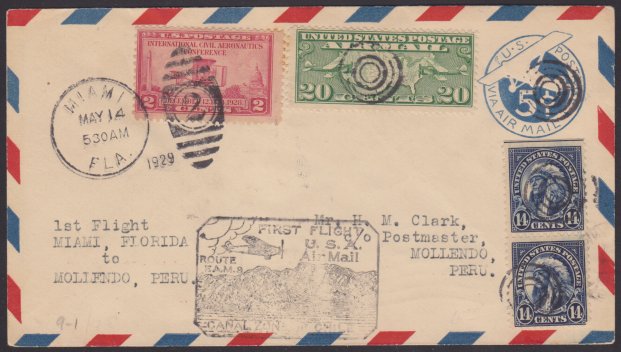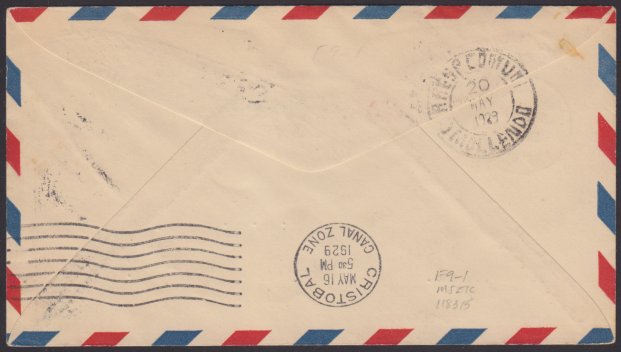 The handstamped "route F.A.M. 9, first flight, U.S.A. Air Mail" cachet indicates the route ran from the Canal Zone to Chile. A batch of mail that included this cover was flown from Miami to the Canal Zone for carriage on FAM 9's first flight, however, and service to Chile did not actually begin until July.1
The cover is a standard 5¢ airmail stamped envelope, but in addition to the vertical pair of American Indian stamps, it bears a 20¢ U.S. map airmail stamp and a 2¢ International Civil Aeronautics Conference commemorative—quite an eclectic mix!
A handstamped postmark on the front of the cover indicates it was processed in Miami on the morning of May 14, and a machine cancel on the reverse shows it reached Cristobal, Canal Zone, on May 16. From there, the mail was flown to Mollendo, where it was postmarked again on May 20.
Next: Pennsylvania cover
References
FAM Foreign Air Mail First Flights F9. Aerodacious. 16 July 2007. Accessed 14 Nov. 2010.
Published 2018-06-17