Big Four Cover
The final cover in the Canal Zone portion of this exhibit is almost undoubtedly philatelic in nature, but it is also a fine example of the 14¢ American Indian stamp doing real work. Sent to A. M. Westenhoff of Cincinnati, Ohio, by R. Graham, postmaster in Balboa Heights, Canal Zone, the envelope likely contained stamps or covers for the recipient's collection.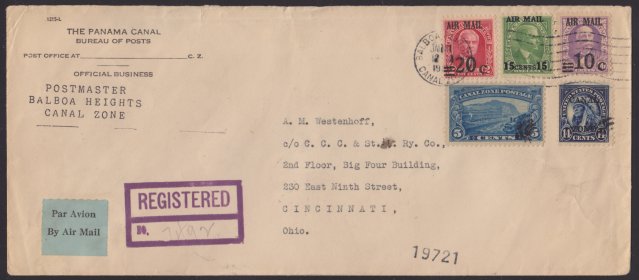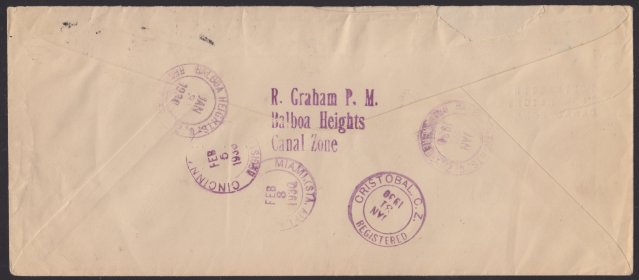 The American Indian stamp with pointy top A's in its overprint is joined on the cover by George Washington Goethals, William Gorgas, and Joseph Blackburn stamps, overprinted and surcharged as 20¢, 15¢, and 10¢ airmail stamps, respectively. A 5¢ design picturing Gaillard Cut, through which the Panama Canal runs, is also present, along with a violet "Registered" handstamp and a "Par Avion, By Air Mail" label seen on other Canal Zone covers.1
The cover was postmarked front and back in Balboa Heights on January 31, 1930, and on the reverse in Cristobal, Canal Zone, later the same day. Next, the envelope would have been carried by a FAM 9 flight to Miami, Florida, where a February 3 postmark was added, and then taken on to its final destination in Cincinnati, where a final postmark indicates it arrived on February 5.
The address makes reference to the Big Four Building in Cincinnati. That building housed one of the offices of the Cleveland, Cincinnati, Chicago & St. Louis Railway, known colloquially as the Big Four.2
Next: Lord-Wright cover
References
Preston, Dickson. Canal Zone Permanent Issue Rates and Uses 1928–1958: Regular and airmail, 1937–1945; World War II, 1941–1945. Canal Zone Study Group. Accessed 10 Jan. 2010.
Hall, Charles, ed. The Cincinnati Southern Railway. Cincinnati, Ohio: Cincinnati, New Orleans, & Texas Pacific Railway Co., 1902. Accessed 10 Jan. 2010.
Published 2018-06-17 Last updated 2020-08-10