Oklahoma Philatelic Society sheet pictures 14¢ American Indian
It seems as though it has been quite some time since I added anything to my online exhibit of the 14¢ American Indian stamp, but earlier this week I was able to write up a newly acquired item in my collection, a 1947 souvenir sheet produced by the Oklahoma Philatelic Society.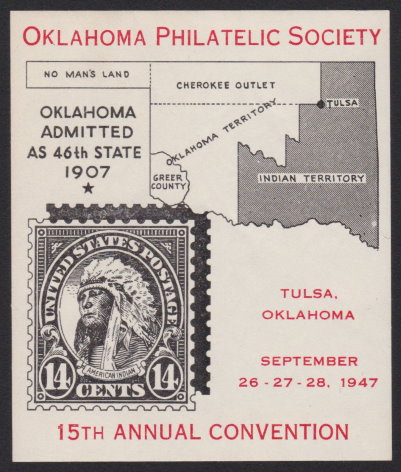 Although I wasn't able to find a great deal of information about the souvenir sheet itself, I did learn a few things that I didn't previously know—for example, that the Oklahoma Panhandle despite being claimed by the United States was not part of any state or territory for nearly 40 years, and that the southwestern corner of Oklahoma was part of Texas until an 1896 United States Supreme Court ruling. That sort of stuff is one of the things that makes stamp collecting fun and educational at the same time.
In the process of getting this souvenir sheet ready to tuck away in my album, I discovered that I have no fewer than eight 14¢ American Indian covers and parcel fronts that I've never bothered researching and writing up. When I'll get around to doing those, I don't know, but it seems that I still have plenty of material to work through even if I buy nothing else!
Published 2020-06-06