Inverted Spider-Man, meet claustrophobic Spider-Man
I wrote earlier in the week about my inverted Spider-Man APC label. Spider-Man appears upside down in relation to the printed USPS logo, which shouldn't have been printed on the label at all.
Now I have what I like to call claustrophobic Spider-Man. The overly wide bar code almost gives our superhero the appearance of being jammed in between a couple of walls!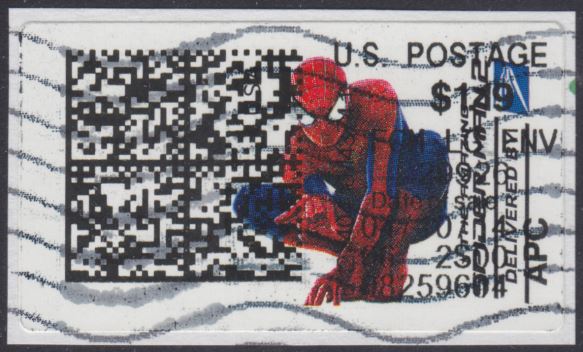 Again, I don't think this is what was supposed to happen. It seems more likely that a narrow bar code should have been printed, and that the sale date and other information shouldn't be plastered all over the top of Spider-Man. It will be interesting to see what other "varieties" of this label appear.
Published 2014-04-16