Gemini 3 astronauts have right stuff for Purgatory Post's newest stamps
Purgatory Post's Scott A. is at it again! His latest cover showed up in my mailbox last week, and the stamps on it pay homage to the astronauts of Gemini 3.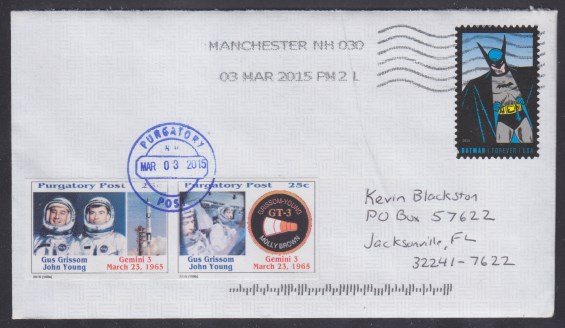 Gemini 3 was the first manned mission in the United States of America's Gemini space program. The mission's crew was comprised of Gus Grissom and John Young. Grissom, of course, died during a test of the Apollo Command Module; Young, however, went on to fly the Apollo 10 and Apollo 16 missions, and later flew on the space shuttle.

Scott tells me that he has several more Gemini stamps planned, so we'll look forward to seeing those as the year progresses.
Published 2015-03-19