Bat's Private Post reissues postal tax stamps on rose paper
Earlier this year, Bat's Private Post in Beverly Hills, California, issued a set of six postal tax stamps on white paper in various denominations to raise funds for Yemeni Civil War relief efforts. On October 24, those stamps were reissued on rose paper.
The reissued stamps include the following values:
10¢: Mother and child
20¢: Dar al-Jahar (museum)
50¢: Early Yemeni stamp
$1: Yemenis searching through rubble
$2: Military aircraft dropping bomb
65¢ + $1: Yemeni Arabian Nights stamp (semipostal with postal tax included in price)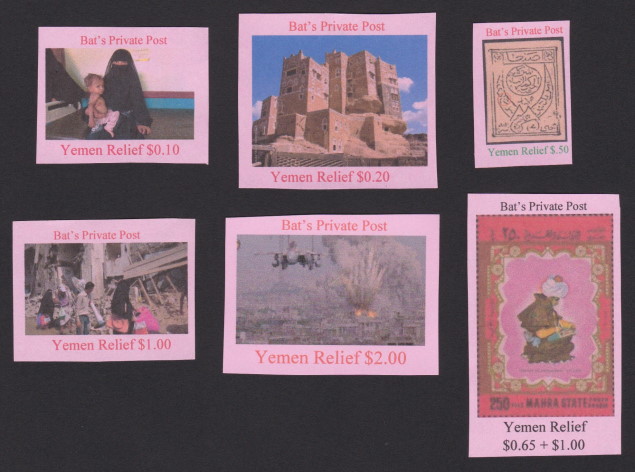 The 65¢ + $1 stamp is a denomination change, with the original issue being a 63¢ + $1 stamp. In addition, the text on the new stamp is in black instead of the red used on the original. Otherwise, there are no glaringly obvious differences except for the paper color.
According to a press release issued by Bat's Private Post, all domestic mail carried by the private local post between September 15 and December 31 must bear one or more of the postal tax stamps, with letters facing a 10¢ charge in addition to normal postage, parcels a 20¢ charge, and freightsheets a $1 charge.
Published 2022-11-08