Bat's Private Post issues seals, postal tax stamps
Bat's Private Post, a local post based in Beverly Hills, California, this spring released two large sets of stamps that I have not previously mentioned here.
The first is a set of non-denominated official stamps or seals that will be used to seal packets of letters being transported between different Bat's Private Post facilities. Each of the eight seals issued on March 27 is die-cut with scalloped corners, with the following subjects on the seal for each location:
Beverly Hills: Romanoff's (restaurant)
Hawaiian Islands: Waikiki sunset
Hollywood Forever Cemetery: Skull & crossbones
Los Angeles: Bat
Los Angeles Zoo: California condor
Mexico City: Mexican arms
Palm Springs: Ocotillo plant (Fouquieria splendens)
San Diego: San Diego Mission Palm (illustration from vintage postcard)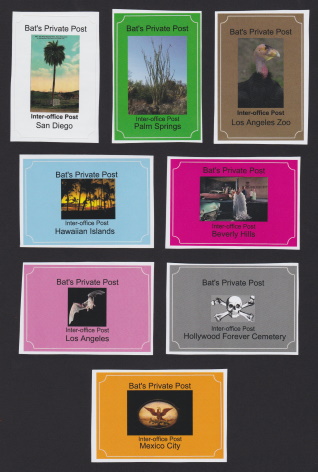 On April 11, Bat's Private Post issued a set of six postal tax stamps intended to raise funds for relief efforts related to the Yemeni Civil War, which began in 2014, as well as two postal tax due stamps. Between April 15 and July 4, and again from September 15 to December 31, all mail carried by Bat's Private Post is being taxed according to the following structure:
Letters and large envelopes: 10¢
Parcles: 20¢
Freightsheets: $1
The set includes these stamps:
10¢: Mother and child
20¢: Dar al-Jahar (museum)
50¢: Early Yemeni stamp
$1: Yemenis searching through rubble
$2: Military aircraft dropping bomb
63¢ + $1: Yemeni Arabian Nights stamp (semipostal with postal tax included in price)
10¢ & 20¢: postal tax due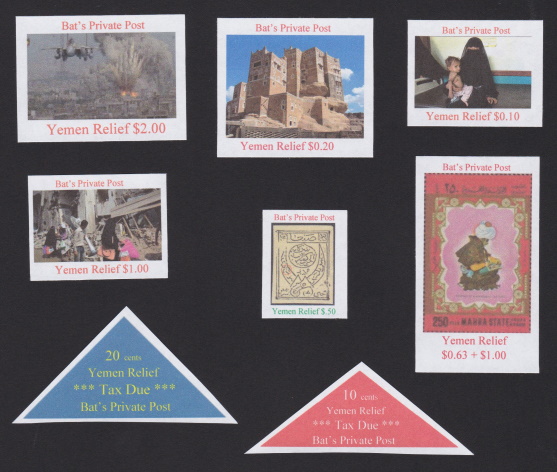 Official seals and postal tax stamps are, in my experience, uncommon in the local post world, so kudos to Bat's Private Post operator Scott Z. for his creativity.
For more information about any of these stamps, you can write to:
Bat's Private Post
PO Box 11175
Beverly Hills CA 90213-4175
United States of America
Published 2022-06-16 Last updated 2022-11-08